Ten Facts to Familiarize Yourself with China's Weather Ahead of Your Trip
Ten Facts to Familiarize Yourself with China's Weather Ahead of Your Trip

1. China has the largest climate differences for a single country.
Before you travel, we suggest you check this page detailing weather conditions throughout the country and throughout the year. This is especially important if you are traveling to multiple destinations as climate can vary considerably, so you may need to pack a variety of clothes.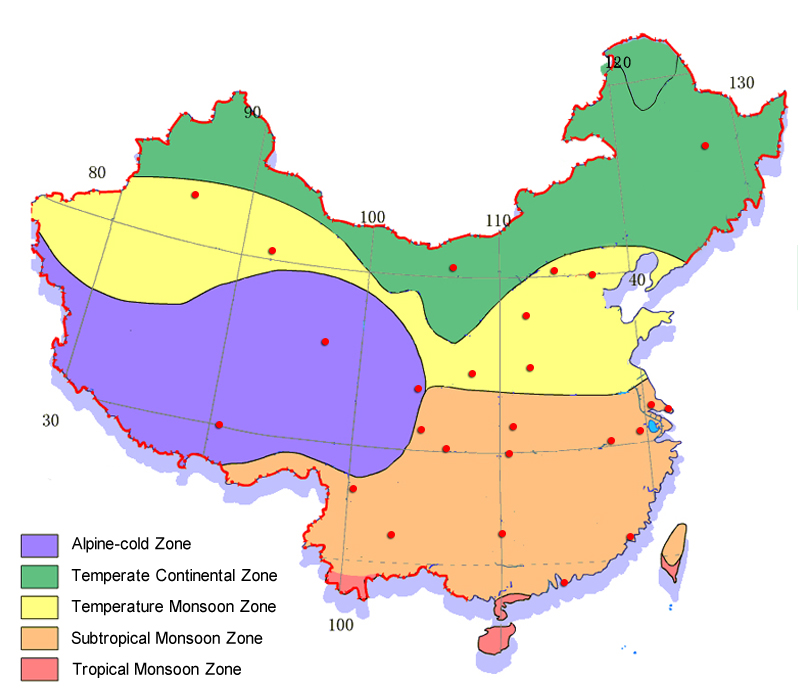 2. North China's winters are cold and dry; summers are hot and humid.
Northern China experiences temperatures well below freezing in winter, with winds coming in from Siberia. In the summer, winds from the south can carry in steamy hot weather.
Destinations such as Beijing, but especially destinations further north such as Harbin (which is famous for the Harbin Ice and Snow Festival that only takes place in winter as the ice statues are best kept under these conditions), January is the coldest month of the year. January in Harbin has an average high temperature at -13°C (8°F) and an average low at -25°C (-13°F). They require lots of extra preparation in terms of clothing to bring.

3. Southern China has a monsoon season.
China's southern cities experience monsoon rainfall during summer (generally April through to September), with the amount of rainfall depending on the city you're visiting. Guangzhou, for example, has an average of 276 mm of rainfall in June and 233 mm of rainfall in July. Hong Kong and Guilin both have more. For city specific information, check out this page with weather conditions throughout China. If you are traveling during this time, make sure you pack rain gear!
4. Southern China is also prone to typhoons during the typhoon season.
The south is prone to typhoons from May to December, but especially July to September. Worst hit areas include the islands of Hong Kong and Taiwan, but also coastal Guangdong and Fujian provinces. Categories of typhoons put wind speeds at up to 194 km/h. Find more information about traveling during China's typhoon season here.
While weather conditions are dependant on the severity of the storm, typhoons generally lead to severe rainfall and strong winds in a short amount of time.
5. Beijing's biggest climate issue is not the weather, but its air pollution.
Perhaps not surprising if you've ever watched the news, Beijing's biggest 'weather' issue is actually its pollution. Since 2008, the PM2.5 particles in the air in Beijing can be six times above what the US's Environmental Protection Agency deems safe at an average of 100 micrograms per cubic meter.
Now we might be biased, but Beijing is still incredible. If you've got preexisting health conditions or you are traveling with the very young or the elderly, it might be worth checking out our article to see when Beijing's air pollution is the least problematic. If you are in Beijing on a poor air quality day, we've listed some ways to cope with a polluted Beijing day (and alternative activities).
6. Beijing is not the only city where smog is an issue.
If you are sensitive to pollution, we also recommend being careful in cities such as Tianjin,Chongqing, Xi'an (home to the world-famous Terracotta Army), Datong, Luoyang (where the Longmen Grottoes are located), and Urumqi (the capital of Xinjiang, often a starting point to journeys through Northwest China).
These places and many more large cities in China can also experience high air pollution levels (but still have sights worth visiting!). Once outside the city center, air quality can improve considerably.
7. Most of China is very hot in July and August.
China's summers are nothing like temperature summers found through much of Northern America and Europe, they can actually be really, really hot depending on where you go. 
In Beijing, for example, July can see temperatures as high as 40°C (104°F), while in Shanghai temperatures during the day frequently hit 37°C (98°F) and 26°C (79°F) during the night. It's more humid the further south and east you go.
If you're not sure you can cope with hot summers, or want to make sure that you're not melting during your trip, make sure you're avoiding July and August through most of the country, and prepare with light clothing made of natural fibres, lots of water to drink, sunscreen, and taking plenty of breaks in the shade.
8. Tropical Hainan is a great island escape for sun-chasers all year long.
Hainan Province, an island province located in the extreme south of China (not far from Hong Kong) is a great escape for those seeking the sun all year around.
 Many Northern Chinese people actually spend their winters on the tropical island, mostly around Sanya, and you'll find there are lots of comfortable and luxurious resorts to enjoy. Sanya boasts beautiful beaches, tropical sun and scenery, and a cooling sea breeze to keep you comfortable.
9. West China has the most extreme summer to winter temperature differences.
Western China, where the most popular tourist destinations include Xinjiang, which is largely desert, and Tibet, which consists of extremely high and vast plateaus, experiences some of the biggest temperature differences between summer and winter. In Kashgar, for example, the average minimum temperature in January is -11°C (12°F) in Kashgar, and average highs of 33°C (91°F) in July.
Tibetan mountains are best seen and snapped in October, when it's less rainy, and not too cold to feel your fingers.

Much of Xinjiang and Tibet is really not recommendable between December and March (if not November–April), and Xinjiang especially experiences uncomfortably hot summers (as it is the dessert) from June to August.
10. October is the best month in China for weather.
Overall, October in China is the best month for the weather. The north and northeast are cool and dry. Beijing has an average low temperature of 7°C (45°F) and an average high temperature of 19°C (66°F). The east is a little warmer. Shanghai averages at 15°C (59°F) and 22°C (72°F) low and high respectively. And cities in the south like Guilin, Guangzhou, Hong Kong, and Kunming are less rainy. Guilin for example has 10 rainy days in October when compared to 15 in August. Even in Western China (Xi'an, Tibet, Xinjiang, and Dunhuang) you can expect cooler temperatures, but not too cold to be a deterrent.
This makes October, all factors considered, the best time to travel to China. But one thing to keep in mind about traveling then is to avoid the National Day holiday, also known as Golden Week (October 1–7), because a lot of China's population will be traveling during this time too. However, even during this period, we can still recommend some great places to go to escape the October National Day Crowds.
https://www.chinahighlights.com/weather/china-weather-facts.htm