TAG-Confucius Organizes online Final 19th "Chinese Bridge" Chinese Proficiency Competition for Foreign College Students and the 11th "Great Wall-Petra Cup" Chinese Proficiency Competition for Jordanian College Students
TAG-Confucius Organizes online Final 19th "Chinese Bridge" Chinese Proficiency Competition for Foreign College Students and the 11th "Great Wall-Petra Cup" Chinese Proficiency Competition for Jordanian College Students
The final of the 19th "Chinese Bridge" Chinese Proficiency Competition for Foreign College Students in Jordan and the 11th "Great Wall-Petra Cup" Chinese Proficiency Competition for Jordanian College Students was held online, which was sponsored by Confucius Institute Headquarters and Chinese embassy in Jordan and hosted by TAG-Confucius Institute (TAG-CI). Mamoun Abu Al-Sebaa, Jordanian Director of TAG-CI, Zheng Yan, the second secretary of the cultural office of Chinese embassy in Jordan, Yang Songfang, Chinese Director of TAG-CI, Wang Fang, and Chinese Director of Confucius Institute at Philadelphia University (CIPU) attended the competition. The teachers, students and their parents of Chinese-teaching institutions in Jordan watched the competition online. Ten contestants from TAG-CI, the University of Jordan (UJ) and CIPU entered the final through semi-final competition.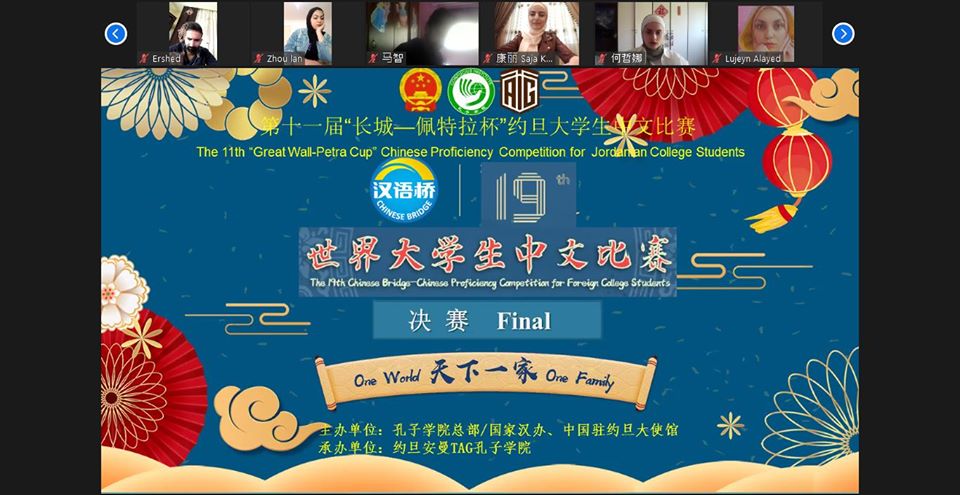 The theme of the competition was "one world, one family", including keynote speech, questions-answers on Chinese language, national conditions and culture and talent show. The judges were composed of five Chinese teachers in Jordan and two local Chinese teachers.
In the keynote speech, the contestants shared their experience of learning Chinese, the story of studying in China, the friendly exchanges and cooperation between China and Jordan, the touching stories of the joint efforts of China and other countries to prevent the pandemic, China's social and economic development and its contributions to the world, and the beautiful vision of "one world, one family" with accurate pronunciation and moving content of the speech.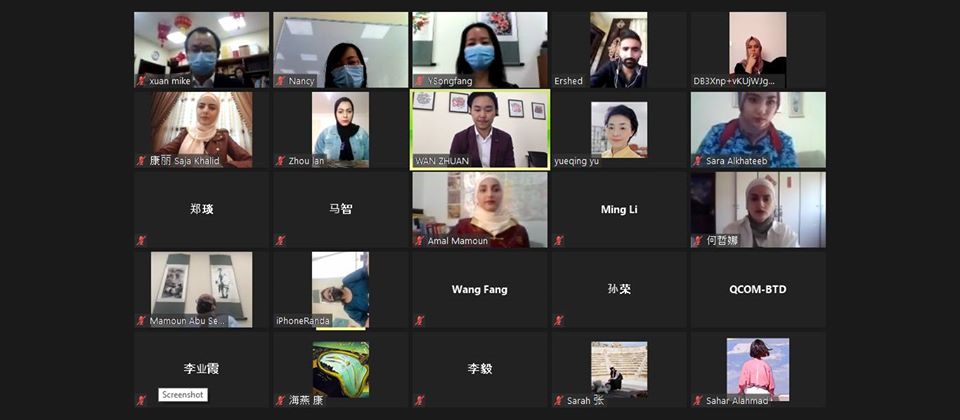 The questions in Q&A session covered Chinese language, culture, history, geography, philosophy, music, painting, sport, traditional Chinese medicine, economics, science and technology, etc. The contestants were able to answer the questions correctly with ease, fully demonstrating their profound knowledge and humanistic quality and leaving a deep impression on the audience and judges.
The talent show pushed the competition to the climax. The contestants made every effort to show the best of themselves. They performed song-singing "Beautiful Black Eyes" while playing the Oud, poetry recitation "A Moonlit Night on the Spring River", singing and dancing "Back to My Mother's Home", Chinese painting "Bamboo", and flute solo "Wish", etc. , making the atmosphere very lively.
After fierce competition, Alaa Alahmad from CIPU won the championship, Ershed Alshraya from UJ won the second place, Nada Mahmoud and Rama Jarwan from TAG-CI won the third and fifth places respectively.
The "Chinese Bridge" competition is an important annual event of Chinese learning in Jordan. Affected by COVID-19 this year, the competition was held online. The contestants were still enthusiastic, prepared carefully under the guidance of the teachers, and rehearsed actively. The competition has created a platform for Chinese learners in Jordan to learn from and communicate with each other, helped them show their Chinese level, and enhanced their interest in learning Chinese language and understanding Chinese culture.