TAG-Confucius Institute Receives Cultural Counsellor of Chinese Embassy in Jordan

TAG-Confucius Institute Receives Cultural Counsellor of Chinese Embassy in Jordan

AMMAN - Ms. Shi Wei, the new Cultural Counsellor of the Chinese Embassy in Jordan, visited TAG-Confucius Institute (TAG-CI). She was warmly received by Mr. Luay Abu-Ghazaleh, President of the Board of TAG-CI, Mamoun Abu Al-Sebaa, Jordanian Director of TAG-CI, Yang Songfang, Chinese Director of TAG-CI, Randa Al-Yabroudi, Deputy Director of TAG-CI, and all TAG-CI teachers.
Mr. Abu Ghazaleh commended the friendly relationship and close cooperation between Talal Abu-Ghazaleh Global (TAG.Global)/TAG-CI and China, through the Chinese Embassy in Jordan, expressing his appreciation for the Embassy's support for TAG-CI over the years. He affirmed TAG.Global's  willingness to offer any help necessary in the future and hoped to maintain the close cooperation between TAG-CI and the Chinese Embassy. Shi Wei stated that TAG.Clobal is a well-known enterprise in the Middle East, even the world, and TAG-CI is the first CI established by a university and an enterprise in the world. After years of development, TAG-CI has formed its own characteristics. Both have made contributions to deepening the relations between China and Jordan. The Chinese Embassy will continue to support the development and construction of TAG-CI.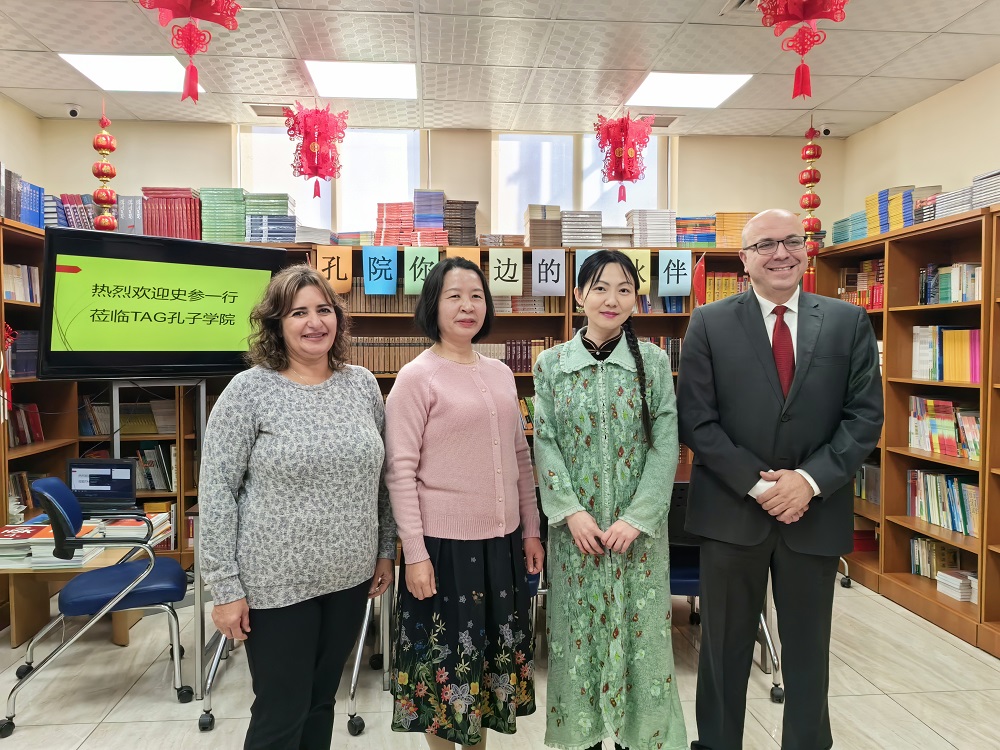 Mr. Abu Al-Sebaa talked about his admiration of China and his story of learning Chinese, as well as the educational and cultural exchanges and cooperation between China and Jordan. Yang Songfang introduced the Chinese teaching and cultural events of TAG-CI, and talked about the celebration plan for the 15thanniversary of TAG-CI next year. Ms. Shi Wei spoke highly of the contributions made by TAG-CI,  promoting the development of educational and cultural exchanges between China and Jordan. She said that the Chinese Embassy would continue to support and cooperate with TAG-CI to carry out more brand events in the future.

Following that  Ms. Shi Wei visited the photo wall of TAG-CI while listening carefully to the stories behind the photos, visited the classrooms, library and cultural corner as well,  and appreciated the modern teaching facilitates and Chinese style decoration of TAG-CI.
Then she had a communication meeting with the teachers. First, Yang Songfang introduced the teachers one by one, and she asked about their work and life and commended their commitment and devotion to Chinese language teaching and cultural exchanges. Then they discussed the coming spring festival (Chinese Lunar New Year) gala to be held in the middle of next January. Ms. Shi said that TAG-CI has successful experience and rich resources in holding various events, so TAG-CI will organize the spring festival celebration with the cooperation of other Chinese teaching institutions and the support of the Embassy and China Culture Center in Amman. Let's look forward to an exciting spring festival gala.