TAG-Confucius Institute Participates in the Semi-Final of the Preliminary Round in Jordan of the 20th "Chinese Bridge" Competition 
TAG-Confucius Institute Participates in the Semi-Final of the Preliminary Round in Jordan of the 20th "Chinese Bridge" Competition 
On May 31st, the Semi-Final of the Preliminary Round in Jordan of the 20th "Chinese Bridge" Chinese Proficiency Competition for Foreign College Students and the 12th "The Great Wall-Petra Cup" Chinese Proficiency Competition for Jordanian College Students was held online, which was sponsored by Center for Language Education and Cooperation and Chinese Embassy in Jordan. Yang Ronghao, Cultural Counselor of Chinese embassy in Jordan, Dr. Yang Songfang, Chinese Director of TAG-Confucius Institute (TAG-CI), Wang Fang, Chinese Director of Confucius Institute at Philadelphia University (CIPU), attended the competition. A total of 24 contestants from TAG-CI, the University of Jordan, CIPU and Yarmouk University participated in the competition. The teachers and students from the Chinese-teaching institutions in Jordan watched the competition.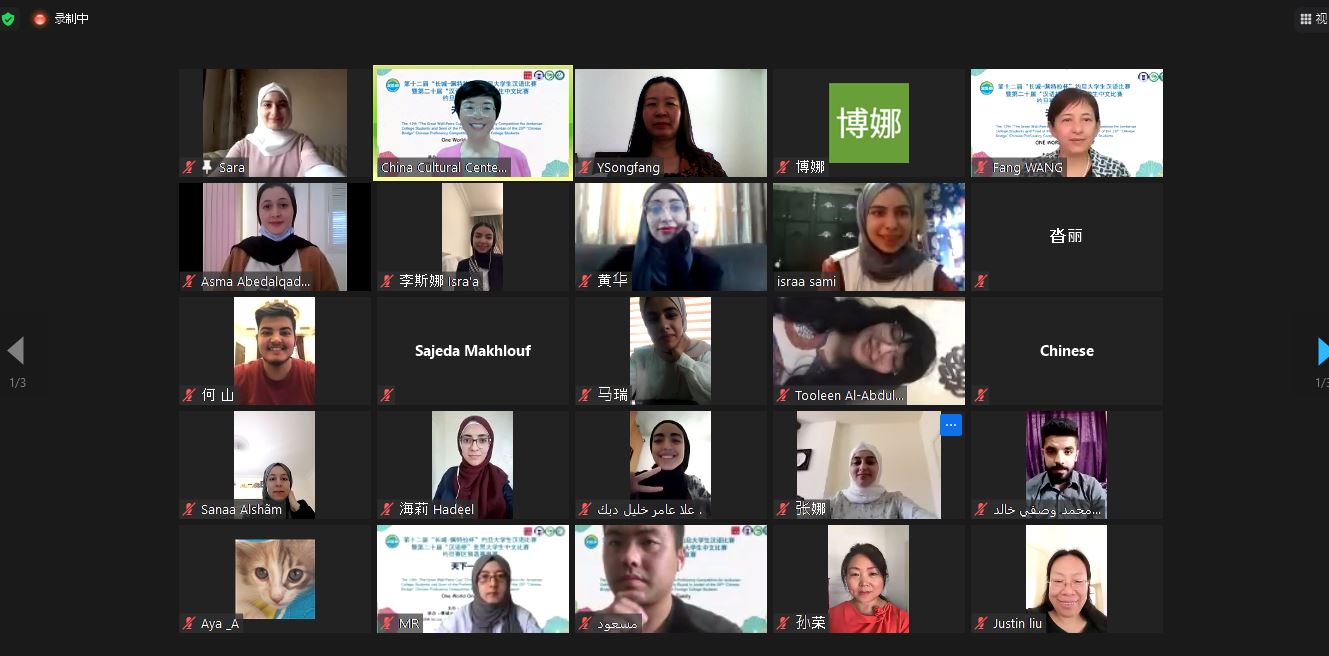 The theme of the competition was "One World One Family". The semi-final consisted of two parts: keynote speech and questions-answers on Chinese language, national conditions and culture. 
The judges were composed of a representative of Chinese Embassy in Jordan, four Chinese teachers in Jordan and two local Chinese teachers.
In the keynote speech session, the contestants shared their pleasant experience of learning Chinese and studying in China, talked about the touching stories of friendly exchanges and cooperation between China and Jordan and joint fight against Covid-19, China's economic and social development and its contribution to the world, and beautiful vision of "One World One Family", with accurate pronunciation and moving content of the speech.
In Q&A session, the contestants were able to answer the questions correctly with ease, fully demonstrating their profound knowledge and leaving a deep impression on the audience and judges. 

After fierce competition, Sara Yousef, Jana Altaraireh, Sana'a Alhaq and Majd Alburai from TAG-CI won the 1st, 3rd, 5th and 6th place respectively and entered the final which included the top ten contestants in the semi-final. The final will be held online on June 17.

Although the pandemic is raging all over the world, the students are still enthusiastic for learning Chinese and prepare carefully for the competition under the guidance of the teachers. The competition provides a stage for young Jordanian students to show their Chinese ability, builds a platform for mutual learning and communication, inspires their enthusiasm for learning Chinese, and enhances their understanding of China.