TAG-Confucius Institute Holds First Home-Based Online Chinese Proficiency Test in 2022
TAG-Confucius Institute Holds First Home-Based Online Chinese Proficiency Test in 2022

On February 27, TAG-Confucius Institute (TAG-CI) successfully held the first home-based online Chinese Proficiency Test (HSK & HSKK) in 2022. The test covered HSK level 3, 4, 5, 6 and HSKK basic, intermediate and advanced levels. 34 test takers sat for the test. 
TAG-Confucius Institute has held more than 10 home-based online HSK tests. The teachers have accumulated rich experience, but they still took every test seriously with responsible attitude. They actively participated in the online test training organized by Chinese Testing International (CTI) and became familiar again with the test process and the application of the test system to ensure the success of the test.
Before the test, the teachers guided the students to download and install the test APP and invigilation software and skillfully operate the test system, reminded them of some dos and don'ts, and led them to conduct mock tests. 
On the day of the test, the teachers came to TAG-CI to prepare for the test. They guided the students to join the Zoom invigilation meeting room one hour in advance, verified the students' identities, checked the test environment, logged in to the test management system to monitor the test and guided the students to take the test. During the test, any problem was properly solved with the help of the technical teachers from CTI. With the joint efforts of all the teachers, the cooperation of the students and the strong support of CTI, the home-based online HSK test was successfully completed.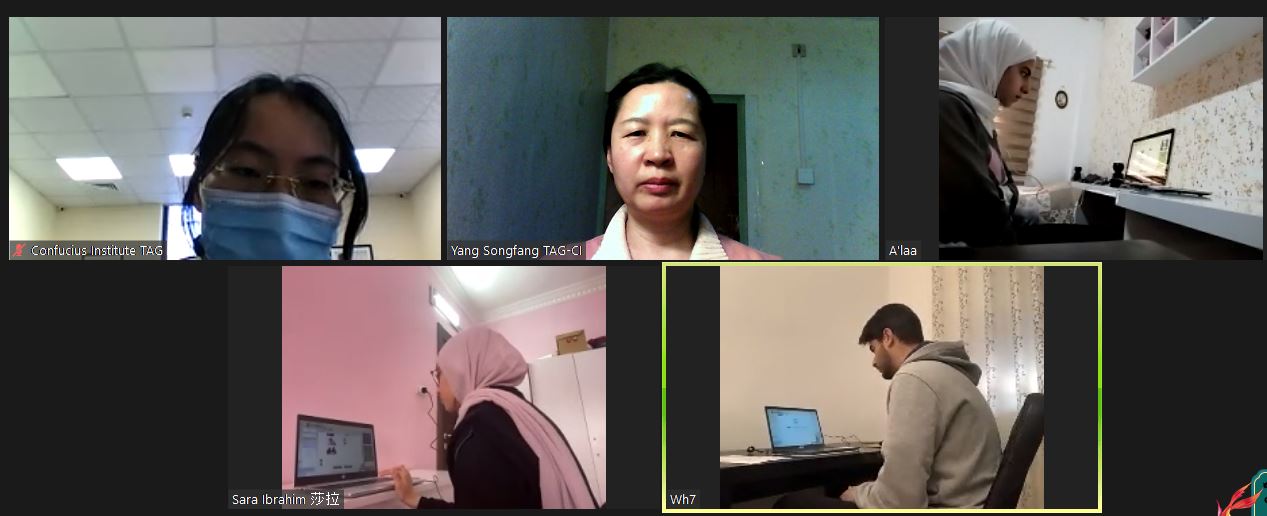 After the test, the students expressed their thanks to the teachers for their patient guidance and help. Especially for some students who took home-based online test for the first time, the teachers guided them step by step from downloading the test APP to logging in to the test system to answer the questions. In their eyes, the test might not be so smooth without the teacher's patient guidance and kind help. 
Currently, the pandemic situation in Jordan is still severe. The home-based online test not only ensures the life safety and health of the teachers and students, but also meets the needs of the students for scholarship application, academic assessment, job hunting and so on.
The online test truly embodies the dream-chasing spirit of "Pandemic is spreading, but Chinese learning will never stop" of the international educators and learners.