Luay Abu-Ghazaleh Chairs 14th Annual Meeting of TAG-Confucius Institute's Board of Directors
Luay Abu-Ghazaleh Chairs 14th Annual Meeting of TAG-Confucius Institute's Board of Directors

AMMAN – Mr. Luay Abu-Ghazaleh, chairman of Talal Abu-Ghazaleh Confucius Institute (TAG-CI) – a member of Talal Abu-Ghazaleh Global (TAG.Global), has chaired the 14th annual meeting of TAG-Confucius' Board of Directors, which was recently held digitally with the administration of China's Shenyang Normal University.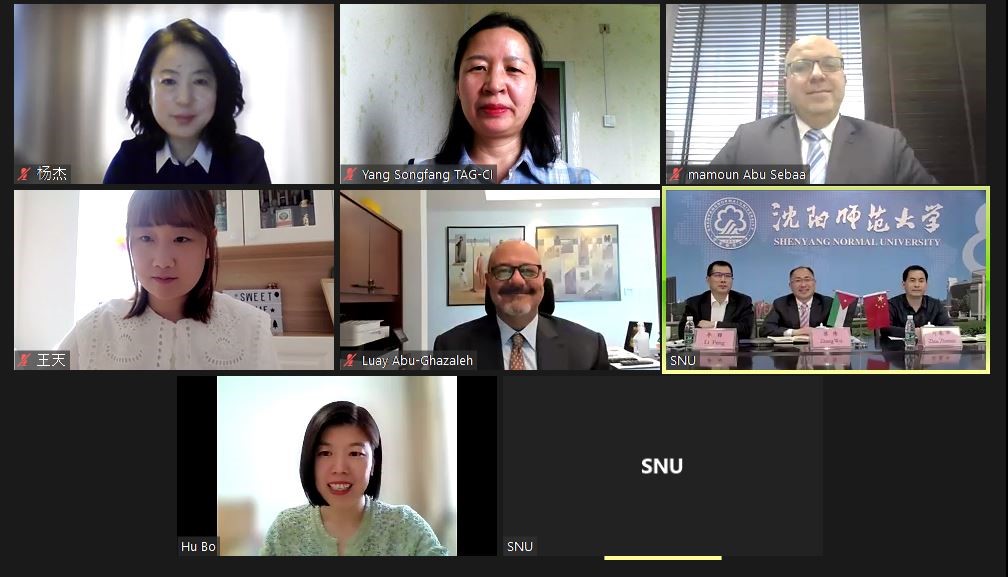 The meeting was attended by TAG-Confucius Executive Director, Mr. Mamoun Abu Al-Sebaa, and Dean of TAG-Confucius Institute, Dr. Yang Songfang; in addition to a delegation of Shenyang Normal University which included Vice President, Dr. Yang Jie, Director of Office of International Exchange and Cooperation, Zhang Wei, Director of Personnel Department, Zhou Zhentian, and Director of College of International Business, Dr. Li Feng, Deputy Director of International Exchange and Cooperation, Ms. Hu Bo, CI Coordinator of International Exchange and Cooperation, Ms. Wang Tian.
During the meeting, Mr. Abu-Ghazaleh expressed his gratitude and appreciation to Shenyang Normal University for its constant support to the Institute, despite the difficult conditions the world is experiencing due to the repercussions of the Coronavirus (COVID-19). 
He further commended the strong and deep partnership between TAG.Global and Shenyang Normal University which continues successfully since it was established in 2008, pointing out that this partnership is distinctive since it is the first partnership in Confucius Institute in the world between the Chinese university and the business sector.  
Mr. Abu-Ghazaleh also affirmed the eagerness of HE Dr. Talal Abu-Ghazaleh, founder and chairman of TAG.Global, in further consolidating and expanding the mutual cooperation to cover new fields in order to achieve the objectives of the 'Belt and Road' initiative.
Mr. Abu-Ghazaleh stated that TAG.Global aspires for wider cooperation with the University in the fields of Intellectual Property, technical and cultural exchange. 

He also expressed TAG-Global's hope to establish a framework for collaboration between the University and Talal Abu-Ghazaleh University College for Innovation (TAGUCI) to become one of the University College's partners - the first higher educational project of its kind in Jordan.
For her part, Dr. Yang Jie welcomed TAG-Confucius Board members, expressing her hope that next year's meeting would be conducted in-person similar to previous years' meetings. She also thanked Dr. Talal Abu-Ghazaleh and the TAG-Confucius Institute for their efforts in strengthening relations between China and Jordan as well as the Sino-Arab ties in various fields, in addition to their active role in spreading the Chinese language and culture between Jordanians and Arabs.
Dr. Yang Jie also stated that Shenyang Normal University is experiencing today a unique leap, where it increased the number of its colleges to 26 in various disciplines as well as the student capacity to 24,000 students. She further affirmed that the University is currently developing a systematic plan to prepare qualified teachers and to improve their efficiency by organizing training courses and workshops in their respective fields. 
During the meeting, TAG-Confucius Executive Director, Mr. Mamoun Abu Al-Sebaa', presented a detailed report on the cultural, academic, artistic and social events TAG-Confucius conducted last year, as well as its activities in 2022. 
Next year; TAG-Confucius Institute will celebrate its 15th Anniversary, moving forward with determination to intensify its efforts in organizing cultural, artistic and academic activities in order to spread the Chinese language and culture in Jordan and various Arab countries.