DR. Abu-Ghazaleh: China is still driving the world trade despite the pandemic

During his participation at the Post-Pandemic Economic Development Forum 2022 in Doha:
DR. Abu-Ghazaleh: China is still driving the world trade despite the pandemic

DOHA – HE Dr. Talal Abu-Ghazaleh, founder and chairman of Talal Abu-Ghazaleh Global (TAG.Global), has digitally participated as a Guest of Honor at the 'Post-Pandemic Economic Development Forum 2022' organized by the China-Arab Belt and Road Investment and Trade Association, along with wide participation from the world's business and trade sectors.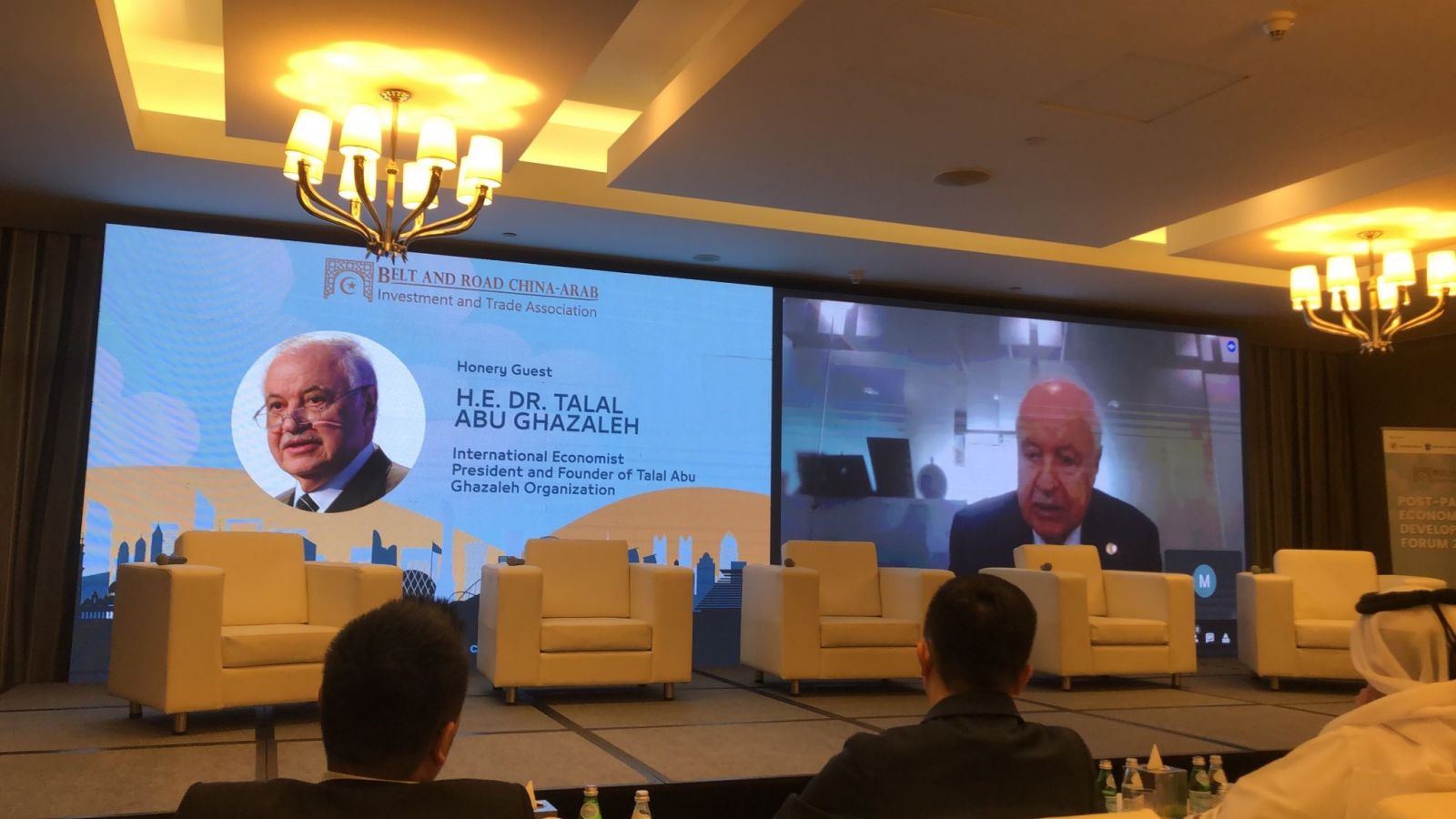 In his speech, Dr. Abu-Ghazaleh affirmed that the post-pandemic economic recovery would take a long time, calling for learning the lessons of China's experience in economic recovery; which despite the pandemic remained the world's biggest economic, industrial, and trade power.
Dr. Abu-Ghazaleh stated that China's new Belt and Road Initiative fostered the 'reciprocity  in trade and civilization' with China's neighboring countries, with which China maintained historical, geographic, and common interests that contributed to introducing the term "Belt Road" countries; that are located on the New Silk Road and exchange trade with China.
Additionally, Dr. Abu-Ghazaleh confirmed that the "Belt Road" countries and their peoples would be affected positively mainly, by increasing their energy sources, increasing their ability to attract investors, and purchasing goods at preferential prices. That is in addition to providing them with the needed experts and skilled workforce.
Dr. Abu-Ghazaleh, thus, called for establishing two departments: first: the 'Strategic Planning for Economic/Trade Partnership with China', and second: 'Digitization and Innovation' to empower communities and people to keep pace with the digital world based on artificial intelligence. He also pointed out that the two departments will be tasked with the establishment of smart cities and the drafting of new legislation in the "Belt Road" countries that take into consideration technological development. 
In this context, Dr. Abu-Ghazaleh urged China's partners to establish an electronic (smart) capital city supervised by an elected board of experts to provide the necessary consultations that promote the establishment of a 'common market', support and welfare organizations, in addition to institutions for teaching Chinese language. 
 Dr. Talal Abu-Ghazaleh was honored by the Chinese President, His Excellency Xi Jinping, in 2014 in recognition of his distinguished efforts in strengthening the Sino-Arab relations. Moreover, Dr. Abu-Ghazaleh has recently participated as a keynote speaker in a dialogue organized by the Chinese Association for International Understanding and supported President Xi's eight-point global recovery plan.