Abu-Ghazaleh meets Ambassador of the People's Republic of China to Jordan
Abu-Ghazaleh meets Ambassador of the People's Republic of China to Jordan
AMMAN – HE Dr. Talal Abu-Ghazaleh, founder and chairman of Talal Abu-Ghazaleh Global (TAG.Global), met HE Mr. Chen Chuandong, the Ambassador of the People's Republic of China to Jordan, to discuss their joint cooperation, expressing his privilege and pride in being a long lasting partner with China in many fields.
During the meeting, Dr. Abu-Ghazaleh tackled various topics including Talal Abu-Ghazaleh for Technology (TAGTech), TAG.Global's a new registered sister company in China that manufactures tech devices in China, with more than 15 models designed and manufactured in Shenzhen in China, also  USD 40 Million worth of products have been produced in China.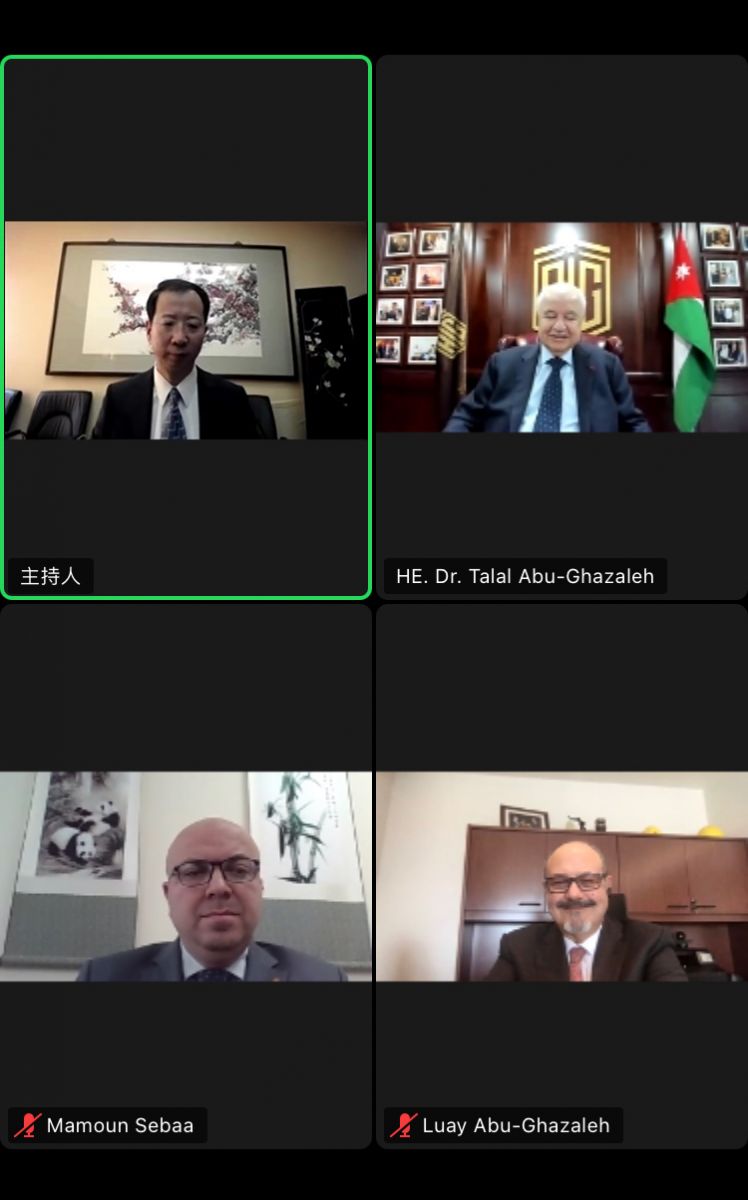 As he added TAGTech and the needs of the assistance of the Chinese Embassy in issuing visas for its experts to help facilitate their visits to China for the purposes of business negotiations.
Dr. Abu-Ghazaleh said that four production lines have been purchased from China for TAGTech factories and four factories are being established in Jordan, Egypt, Oman and the UAE.
Moreover, Dr. Abu-Ghazaleh talked about TAG-Confucius Institute partnership, affirming that TAG.Global is very proud and honored to be a key player in spreading the Chinese culture through TAG-Confucius Center for more than 12 years.
In this respect, Dr. Abu-Ghazaleh expressed willingness for cooperation and coordination between TAG-Confucius and the new Chinese Cultural Center, which has recently opened in Jordan in the fields of Cultural Activities, Scholarships, Celebrations, Chinese Official Delegations Receptions, etc..
Referring to the Chinese Jordanian University for Technology, he stated that TAG.Global aims to establish a university specialized in technical/vocational education in cooperation with China, saying that TAG.Global has an official letter (approval) from the Jordanian government authorizing it to negotiate and establish that university in partnership with the Chinese government.
During the current pandemic and the online learning necessity, it is believed that a    building would be enough for the university and TAG.Global offered hosting the university in one of its building.
 For this purpose and TAG.Global will be delighted to take the lead and initiate this project in partnership with the Chinese Embassy in Amman and 
Additionally, TAG.Global proposes to establish a Technical Institute that offers various certificates and diplomas in the areas of ICT based experts, Dr. Abu-Ghazaleh said, suggesting also to take advantage of online methods and tools for this project and overall vision for this initiative is to have a virtual infrastructure in addition to (Land, Air, and Sea).
HE said that TAG.Global wishes to be part of this initiative by providing its services and offering its global network and 100 offices to assist as needed.
For his part, the Ambassador expressed his gratitude to Dr. Abu-Ghazaleh for his role in strengthening the Jordanian and Arab Chinese relations, while highlighting TAG-Confucius as one of the best centers in terms of its provided services.
Mr. Chen Chuandong offered to assist TAG.Global in studying solutions for the needed visas for TAGTech experts and also coordinating with the Chinese Cultural Center in Amman to activate the cooperation in both online and offline activities.
Dr. Abu-Ghazaleh concluded the meeting thanking the Chinese Ambassador for his cooperation and reiterated his keenness to foster areas of collaboration.