Abu-Ghazaleh Chairs Online Board Meeting of TAG-Confucius Institute

Abu-Ghazaleh Chairs Online Board Meeting of TAG-Confucius Institute

Mr. Luay Abu-Ghazaleh chaired an urgent online meeting of TAG-CI with Shenyang Normal University to discuss the 2020 Budget of the institute. Shenyang Normal University was represented by Dr. Han Guohai, Vice President, Dr. John Wai, Dean of the Faculty of Education and International Relations; and Dr. Wang Rui, Vice Dean of the Faculty of Education and International Relations. While TAG-CI was represented by Mr. Mamoun Abu-Al Sebaa, Executive Director of TAG-CI and Dr. Yang Songfang, the Chinese Dean.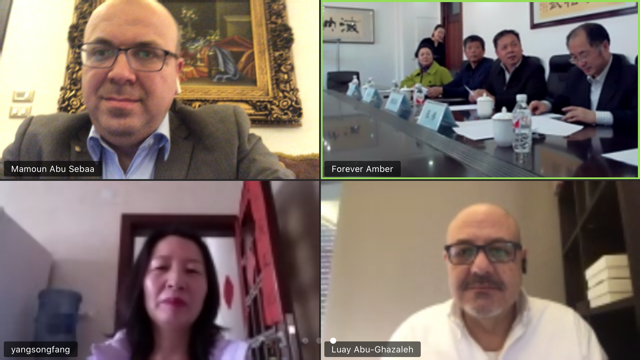 Mr. Abu-Ghazaleh started the meeting by expressing his support and solidarity with China and the Chinese people in facing the pandemic of coronavirus. "On behalf of myself and my family, I wish to express our full solidarity and support to the Chinese people in the face of evolving of the Coronavirus disease," he said. 

"I'm heartened by the efforts that the Chinese Government is making to rein in this challenging threat to public health in China and around the globe. The contribution that frontline health and emergency services at the epicenter of the epidemic in China are making and the determination of the Chinese people deserve my admiration." He added. 

Dr. Han Guohai thanked Mr. Abu-Ghazaleh for his kind words and for HE Dr. Talal Abu-Ghazaleh for his contribution and support to China during the pandemic of coronavirus. He also showed his and Shenyang Normal University support to Jordan and the Jordanian people in facing COVID-19. 

During the meeting, TAG-Confucius Executive Director, Mr. Mamoun Abu Al-Sebaa', presented a detailed report on the cultural, academic, artistic and social events TAG-Confucius will conduct next year, stating that the Institute will strive to increase its academic and cultural activities to promote the Chinese language online all over the world.