TAG-Confucius Institute Successfully Launches Online Chinese Teaching  During COVID-19 Pandemic
TAG-Confucius Institute Successfully Launches Online Chinese Teaching 
During COVID-19 Pandemic
During the outbreak of COVID-19 pandemic, some Confucius Institutes have launched online Chinese teaching and some plan to start online teaching. In order to meet the demand for online teaching, Confucius Institute Headquarters (now called Center for Language Education and Cooperation, CLEC) plans to further improve curriculum resources and provide support for CIs. For this purpose, CLEC selected TAG-Confucius Institute (TAG-CI) and a few others that have successfully launched online teaching to learn about the following aspects of online teaching.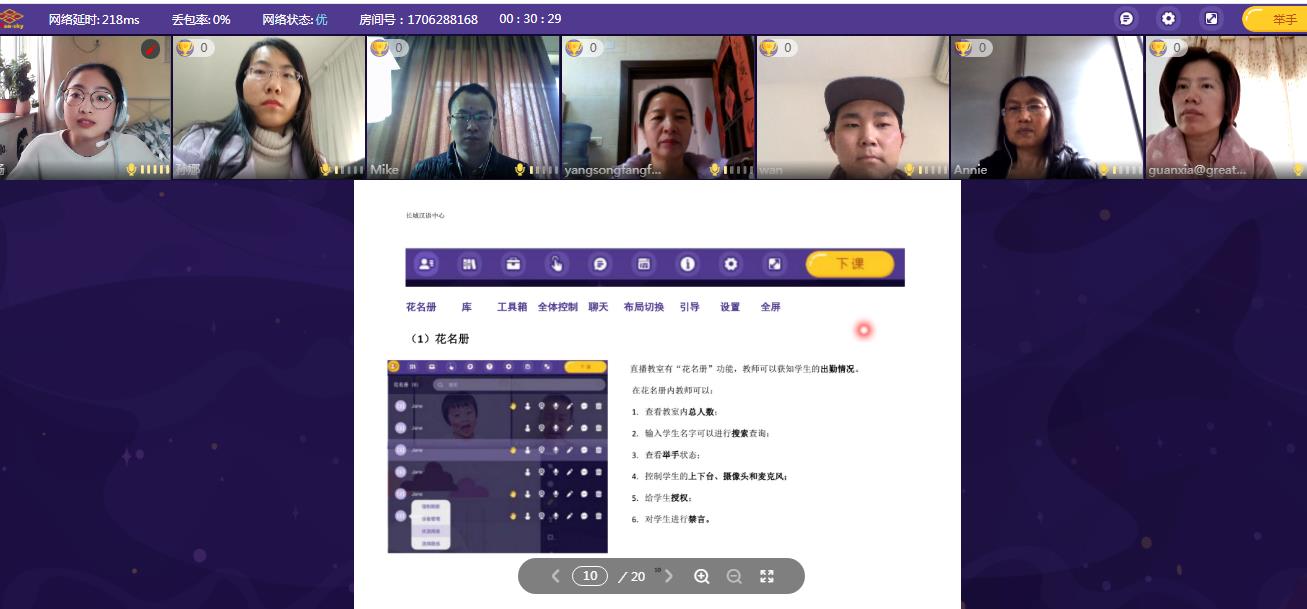 1. What's the platform for online teaching?
  2. What's the way of online teaching? Is it live streaming or will the course be recorded in advance and uploaded to the internet for students to choose freely?
  3. What courses are mainly taught online currently?
  4. Does online teaching have attendance management for students? Are there examinations and assessments?
  5. Does the Confucius Institute or the student need to pay for the use of the platform or software?
  6. What are the problems and difficulties in online teaching?
  7. Other problems and suggestions for online teaching.
After we fed back the online teaching status of TAG-CI to CLEC, TAG-CI was highly praised and recognized by Director and Project Officer of the Division of Asian and African CIs, who expressed that they would refer to and learn from TAG-CI's practice.
Due to COVID-19 pandemic, Jordanian government announced that universities, secondary schools, primary schools, kindergartens and training institutions had to suspend offline teaching from March 15 and all employees should work from home. TAG-CI observed the government's pandemic prevention measures and launched online teaching to ensure that the students can continue to learn Chinese without suspension. 
As early as December last year, during the International Chinese Language Education Conference, TAG-CI established friendly cooperative relationship with the Great Wall Chinese Center and started online and offline mixed teaching using the Great Wall Chinese Smart Cloud Platform. The teacher-in-charge of the Great Wall Chinese 
Center held online training especially for TAG-CI teachers and introduced how to conduct live streaming and how to use the teaching resources on the platform. For online teaching, TAG-CI is fully prepared from technical training and curriculum 
Design, laying a solid foundation for seamless connection and smooth progress from offline teaching to online teaching.
 During online teaching period, the teaching plan and curriculum arrangement of TAG-CI are the same as those of offline teaching, and the management mode is also the same, with students' attendance records, assessment and examinations. Before class, the teacher upload the teaching PPT,audio, video and other relevant contents to the platform for sharing with the students. At the same time, the classroom activities suitable for online teaching are designed. In class, the teacher uses the uploaded materials and online "whiteboard" writing function, pictures, gestures, awarding trophies and other forms to fully mobilize students' interest in learning Chinese. Students can use the "whiteboard" function to write answers to questions or to practice. Meanwhile, the teacher can interact with the students to know about their mastery of content in this class and their feedback, etc. In addition to using the platform for live streaming, the teachers also communicate with students through e-mail, WeChat, WhatsApp and other ways to complete personalized teaching operations such as teaching homework assignment, assessment, examination, document sharing and announcement publishing.
Students can log in to the platform anytime and anywhere to participate in various learning activities. At the same time, the platform will record the students' learning track, which is helpful for the teacher to monitor and analyze students' learning situation. The teacher and the students can also use ZOOM or Tencent Meeting software to conduct online discussion or consultation.
During the pandemic, how to use the online platform to complete language teaching and provide students with a lively, rich and interesting Chinese learning environment has always been a concern of TAG-CI. H.E. Talal Abu-Ghazaleh,Chairman of TAG.Global, has been advocating distance education and giving strong support to online teaching of TAG-CI. Shenyang Normal University, the partner university of TAG-CI, also attaches importance to online teaching of TAG-CI. TAG-CI will continue to make efforts to actively promote its development in the direction of informatization, diversification and digitization, and further promote language and cultural exchange and cooperation.