TAG-Confucius Institute Successfully Hold the 2021 Board Meeting
TAG-Confucius Institute Successfully Hold the 2021 Board Meeting
On June 28, the 2021 Board meeting of Amman TAG-Confucius Institute (TAG-CI) was successfully held online.
 Luay Abu-Ghazaleh, Vice Chairman of Talal Abu-Ghazaleh Global (TAG.Global) and President of the Board of TAG-CI, Mamoun Abu Al-Sebaa, Jordanian Director of TAG-CI, Yang Songfang, Chinese Director of TAG-CI; Yang Jie, Vice President of Shenyang Normal University (SNU) and Chinese President of the Board of TAG-CI, Zhang Wei, Director of International Exchange and Cooperation Department, Yang Baidong, Director of Financial Department, Li Feng, Dean of International Business School, Wang Rui, Deputy Director of International Exchange and Cooperation Department attended the meeting.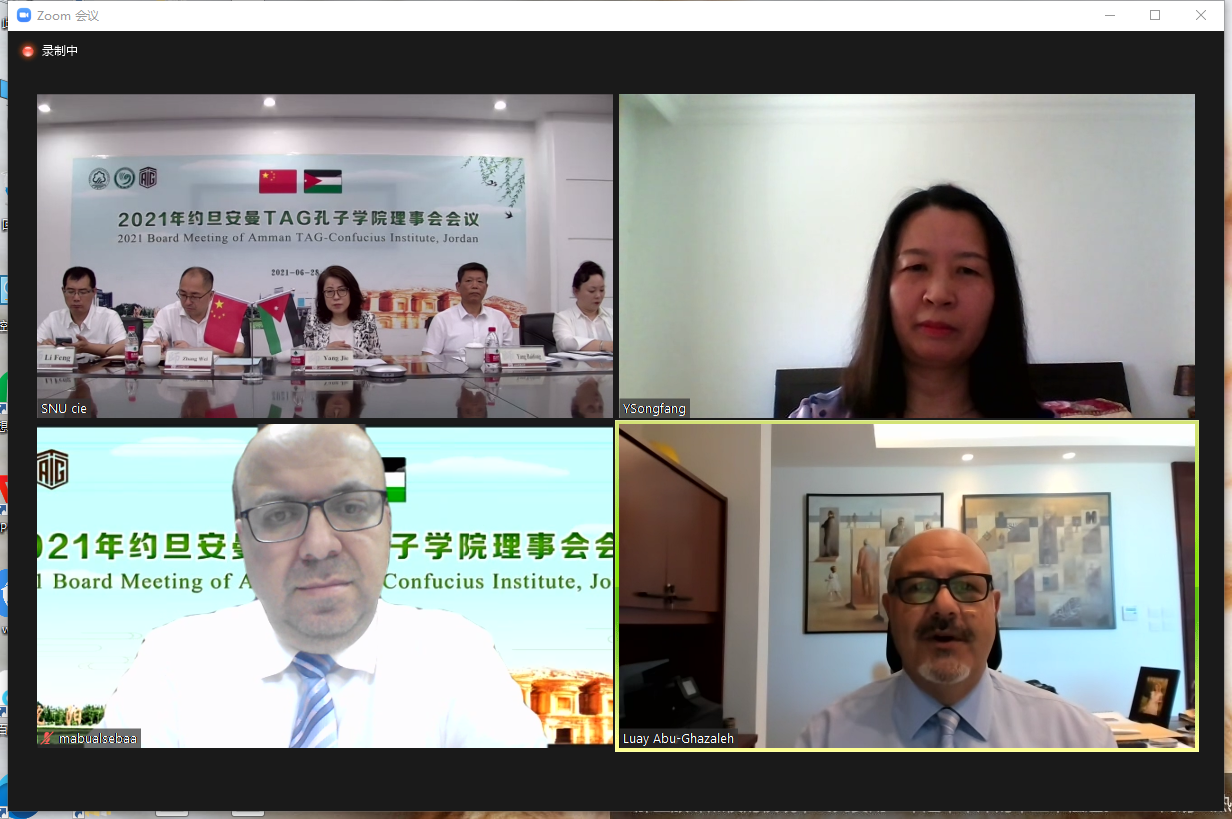 Yang Jie first expressed in her speech her gratitude to TAG.Global for its continuous support to TAG-CI. She said that under the Covid-19 pandemic, TAG-CI has been running well and all the work has been carried out in an orderly manner. She, on behalf of SNU, expressed her thanks to Mr. Chairman Talal Abu-Ghazaleh, Mr. Luay Abu-Ghazaleh and Mr. Mamoun Abu Al-Sebaa for their care for Chinese teachers and Yang Songfang for her dedication to the work of TAG-CI. Yang Jie underlined that SNU would mobilize all resources to support the development and construction of TAG-CI, hoping TAG-CI would be better and better.
Then, in his speech, Luay Abu-Ghazaleh expressed that he was very happy to meet Vice President of SNU Yang Jie and greeted all the attendees. He said that 2020 was a difficult year because of Covid-19 pandemic, and 2021 will be the same. However, he was proud that with the cooperation between and support of SNU and TAG.Global, and the close cooperation and hard work of Yang Songfang and Mamoun Abu Al-Sebaa and the joint efforts of TAG-CI staff, the projects of TAG-CI have been implemented smoothly despite the pandemic. He expressed his gratitude to SNU for its full support to TAG-CI and hoped that TAG-CI would go up to a new level.

After that, Mamoun Abu Al-Sebaa made a report on the work of TAG-CI in 2020 and introduced the financial situation, including Chinese teaching, cultural events, fight against the pandemic, social influence, system construction, Sino-foreign cooperation and key projects. Yang Songfang reported the work plan of TAG-CI in 2021, focusing on the main tasks and key projects to achieve innovation and sustainable development. The leaders of both sides fully affirmed the work of TAG-CI in the past year and expressed that TAG-CI was running smoothly with new achievements after the transition. Both sides also thought that the 2021 work plan was complete, pragmatic and highly operational. Zhang Wei emphasized three points: Strengthening the training of local Chinese teachers, launching the "Chinese +" project suitable for Arab region, conducting national/regional research. Moreover, both sides approved the 2020 final accounts and 2021 budget of TAG-CI. The members also discussed the teaching staff and the cooperation that can be expanded in other fields. 
In the summary, Luay Abu-Ghazaleh, on behalf of TAG.Global and Chairman Talal Abu-Ghazaleh, once again expressed thanks to SNU and hoped that with the close cooperation of both sides, TAG-CI would continue to be successful. Yang Jie said that SNU would continue to work together with TAG.Global to play the main role of both sides so as to promote the development of TAG-CI to a new stage. Zhang Wei conveyed the greetings from Jia Yuming, the Party Secretary of SNU, and Hao Deyong, President of SNU, who expressed gratitude to everyone for their hard work for TAG-CI. Mamoun Abu Al-Sebaa and Yang Songfang thanked SNU and TAG.Global for their strong support to TAG-CI and their care and help for the teachers, and expressed that they would continue to make joint efforts in the future work and make new contributions to the exchanges and cooperation in various fields between China and Jordan.
In the end, both sides expressed their hope that the pandemic will end as soon as possible, work and life will return to normal, exchanges and mutual visits will resume, and the cooperation between the two sides will continue to be deepened and expanded.