TAG-Confucius Institute Participates in the Training for Local Chinese Language Teachers from Jordan and Lebanon 

TAG-Confucius Institute Participates in the Training for Local Chinese Language Teachers from Jordan and Lebanon 
From August 22 to September 3, the Training for Local Chinese Language Teachers from Jordan and Lebanon was successfully held, which was sponsored by the Center for Language Education and Cooperation (CLEC) and organized by Shenyang Normal University (SNU). A total of 41 local Chinese language teachers from Jordan and Lebanon participated in the training. Yang Jie, Vice President of SNU, attended the opening ceremony, Zhang Wei, Director of Department of International Exchange and Cooperation, attended the closing ceremony. Dr. Yang Songfang, Chinese Director of TAG-Confucius Institute,attended the opening ceremony and closing ceremony, and gave e lecture on "Understanding China".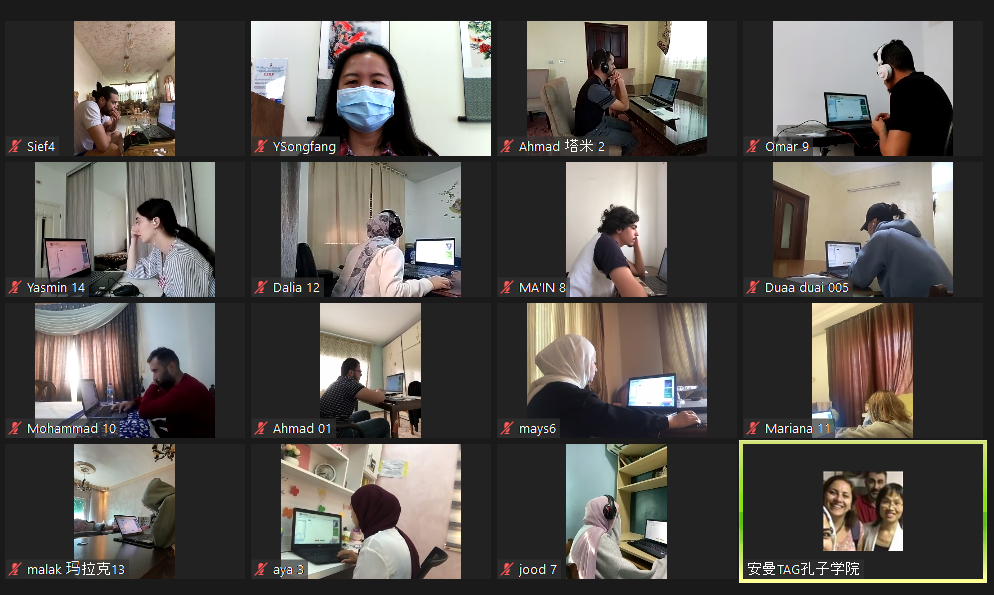 At the opening ceremony, Yang Jie warmly welcomed the local teachers and introduced the international exchange and cooperation and the three Confucius Institutes of SNU. She expressed that the local teachers would improve their Chinese language teaching level, expand their professional vision, and make contributions to the development of Chinese education in Jordan and Lebanon through the training.
Dr. Yang Songfang thanked the CLEC and SNU in her speech for providing this opportunity for local Chinese language teachers from Jordan and Lebanon to learn the ontological knowledge on Chinese language and the teaching of Chinese language and culture. She affirmed that the contents of the training were rich and practical and believed that the teachers would improve their teaching skills, classroom management and deepen their understanding of Chinese language and culture.
 Then Dr. Yang gave a lecture entitled "Understanding China", introducing China's natural geography, administrative divisions and national symbols, history, economy, politics, diplomacy, education, cultural arts, religion, customs, etc. , bring the teachers a panoramic view of China.
At the closing ceremony, Zhang Wei congratulated the local Chinese language teachers on successfully completing their training tasks. He reviewed the two-week rich and wonderful training and hoped that the teachers would apply theory to practice and improve their Chinese language teaching in practice.  

Manal Al-Khammash, as the representative of the local teachers, expressed thanks to SNU for the success of the training. She said that all the local teachers felt they made great progress and improvement in teaching philosophy, teaching methods, language level, problem handling, etc., which strengthened their love of and confidence in Chinese teaching.
After the closing ceremony, all the teachers enjoyed the wonderful folk music performance by the teachers of College of Dramatic Arts of SNU.