TAG-Confucius Institute Participates in the Semi-Final of the 21st "Chinese Bridge" Chinese Proficiency Competition in Jordan
TAG-Confucius Institute Participates in the Semi-Final of the 21st "Chinese Bridge" Chinese Proficiency Competition in Jordan
On May 30, the semi-final of the 21st "Chinese Bridge" Chinese Proficiency Competition for College Students in Jordan was held online, which was sponsored by Center of Language Education and Cooperation and Chinese embassy in Jordan, and organized by the University of Jordan and China Cultural Center in Amman. The competition was attended by Liu Zengxian, Minister-Counselor of Chinese embassy, Wang Xinna, secretary of Cultural Office of Chinese embassy, Dr. Yang Songfang, Chinese Director of TAG-Confucius Institute (TAG-CI), and the Chinese teachers in Jordan. 21 contestants from TAG-CI, Confucius Institute at Philadelphia University, the University of Jordan and Yarmouk University participated in the competition.
Liu Zengxian said in his speech that "Chinese Bridge" competition is a stage for college students learning Chinese all over the world to show their Chinese ability and a platform for mutual exchange and learning, which stimulates students' enthusiasm for learning Chinese and enhances their understanding of Chinese language and culture. He believed that with the joint efforts of all of us, Jordan would achieve more fruitful results in Chinese teaching and the development of China-Jordan bilateral relations. He hoped that on the occasion of the 45th anniversary of the establishment of diplomatic relations between China and Jordan, Jordanian youth would learn more about China's long history and splendid culture through learning Chinese, feel the development and changes of China, and become a new force for the continuous development of China-Jordan friendship.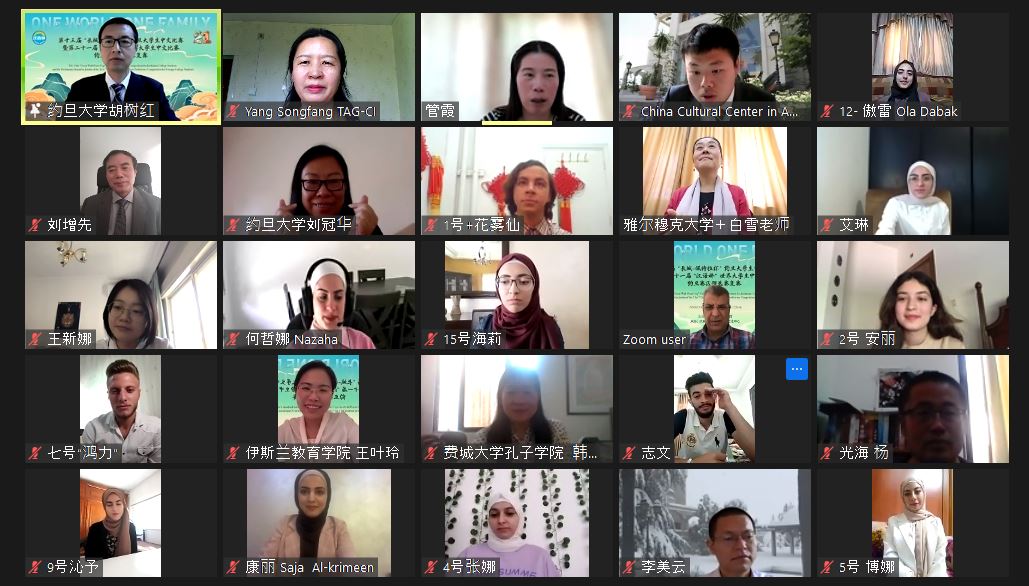 The theme of the competition is "One World, One Family".
 The semi-final consisted of two parts: speech and Q&A on Chinese language, national conditions and culture. In the speech section, the contestants expressed their understanding of "One World, One Family" and their yearning for a better and peaceful world, shared their experience of learning Chinese, expressed their love for Chinese language and culture, and talked about the friendship between China and Jordan and so on. 
In the Q & A part, the contestants were calm and answered the questions fluently, showing their profound knowledge reserves. 
After fierce competition, Hazim Almasri of TAG-CI won the first place, Leen Abdallah of TAG-CI won the second place, and Manal Al-Khammash of TAG-CI won the eighth place, and successfully advanced to the final which consisted of the top 10 contestants in the semi-final and would be held on June 15. 

"Chinese Bridge" Chinese Proficiency Competition is an important stage for Chinese lovers to show their learning achievements and an important platform for mutual exchange and learning. Over the past 21 years, it has built a bridge of spiritual communication between China and the young people all over the world. It is hoped that Chinese learners would make persistent efforts and show their real ability and achieve more through the competition.