TAG-Confucius Institute Participates in the Opening Ceremony of "Tea for Harmony • Yaji Cultural Salon" Event
TAG-Confucius Institute Participates in the Opening Ceremony of "Tea for Harmony • Yaji Cultural Salon" Event

On May 24, the opening ceremony of "Tea for Harmony • Yaji Cultural Salon" event was held at the art gallery of Cairo Amman Bank in Amman, Jordan, under the patronage of H.E. Mr. Chen Chuandong, Chinese ambassador to Jordan, and Her Highness Princess Dana Firas. The event was sponsored by the Ministry of Culture and Tourism of China, and organized by China Cultural Center in Amman, Chengdu Municipal Bureau of Culture, Broadcast, Television and Tourism, Chengdu International Cultural Exchange Center, and was participated in by Ms. Shi Wei, Cultural Counselor of the Chinese Embassy in Jordan and Director of China Cultural Center in Amman, Ms. Rula Awad, Director of the International Department of the Ministry of Culture of Jordan, Ambassadors to Jordan of The Republic of South Africa, Thailand, India, Australia, Malaysia and other countries, UNESCO representatives to Jordan, Dr. Yang Songfang, Chinese Director of TAG-Confucius Institute (TAG-CI), Mr. Mamoun Abu Al-Sebaa, Jordanian Director of TAG-CI, Ms. Randa Al-Yabroudi, Deputy Director of TAG-CI, the teachers of TAG-CI, as well as the friendly people from all walks of life in Jordan.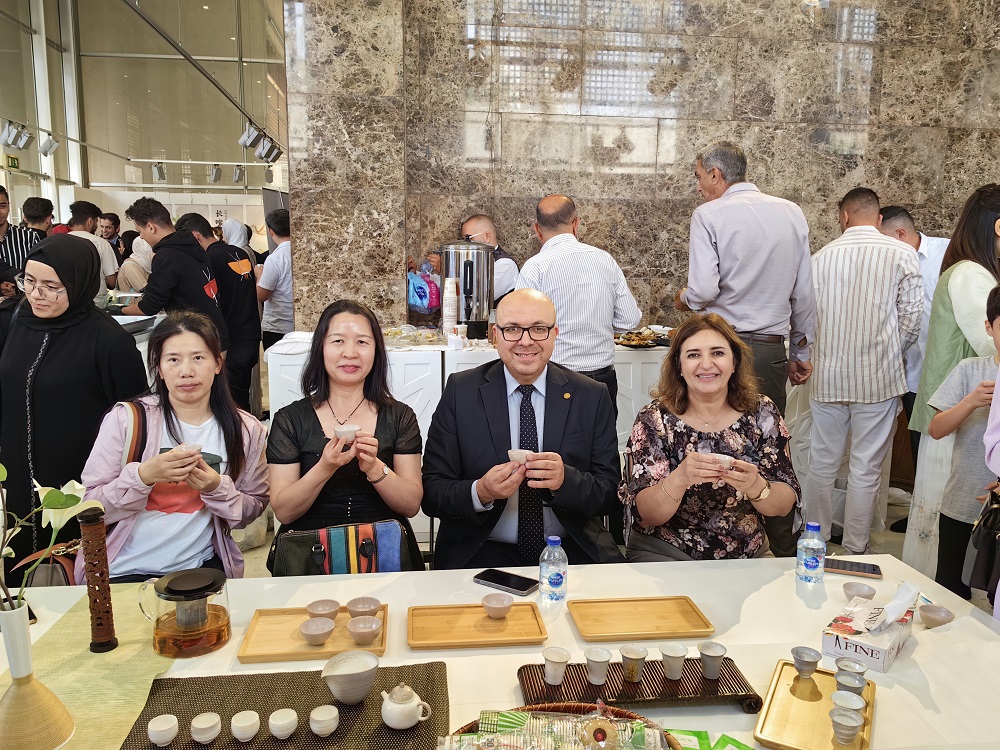 Chinese ambassador Chen Chuandong stated in his speech that tea is an important part of traditional Chinese culture and closely related to the spiritual core of Chinese culture "harmony". In 2022, "China's traditional tea processing techniques and associated social practices" was added to the intangible cultural heritage list of the UNESCO, and Chinese tea culture becomes the common wealth of all mankind. Not long ago, Chinese President Xi Jinping proposed the Global Civilization Initiative, advocating respect for the diversity of world civilizations. 
When replying to the representatives of the renowned Arab artists who visited China to collect their inspirations, Xi Jinping emphasized the importance of cultural exchanges and encouraged artists to make new contributions to enhancing the friendship between the Chinese and Arab peoples. Chen Chuandong hoped that the "Tea for Harmony" event would give people an opportunity to experience Chinese tea culture in person, promote cultural exchanges between China and Jordan, and deepen the friendship between the two peoples.
Her Highness Princess Dana Firas pointed out in her speech that cultural heritage is the source of our identity and represents the shared history and values of humanity. Tea is a daily drink of Chinese people and an expression of cultural concepts. Tea culture has spread to all parts of the world through the Silk Road. Today, drinking tea has become a part of daily life of Jordanians. Tea not only embodies the spirit of Chinese culture of harmonious coexistence between humans and nature, but also serves as an important cultural bond that brings us together.

Then the artists from Chengdu of Sichuan Province, local university students, and Chinese students in Jordan presented wonderful performances such as Sichuan Opera Face Changing, Guqin performance, Hanfu performance, and "The 18 dragon-imitating tea pouring styles" tea ceremony to the audience.
After the performances, Chen Chuandong and Shi Wei accompanied the guests to visit the area of tea display, taste tea, experience tea culture, and taste the delicious Chinese and Jordanian food as well.
Tea originates in China and spreads globally. This event aimed to use tea as a medium, make friends through tea, understand the principle of "Tea for Harmony", and promote cultural exchange and mutual learning, which was reported by some major media including CCTV, Xinhua News Agency, Kingdom TV, Jordan TV, Amman TV, as well as Al Ghad, Alrai, Ad-Dustour, and Jordan Times.