TAG-Confucius Institute Hosts the Semi-Final of the Preliminary Round in Jordan of the 22nd "Chinese Bridge" Chinese Proficiency Competition for Foreign College Students
TAG-Confucius Institute Hosts the Semi-Final of the Preliminary Round in Jordan of the 22nd "Chinese Bridge" Chinese Proficiency Competition for Foreign College Students
On May 15, the semi-final of the preliminary round in Jordan of the 22nd "Chinese Bridge" Chinese Proficiency Competition for Foreign College Students and the 14th "The Great Wall-Petra Cup" Chinese Proficiency Competition for Jordanian College Students took place at TAG-Confucius Institute (TAG-CI). Ms. Shi Wei, Cultural Counselor of Chinese Embassy in Jordan and Director of China Cultural Center in Amman, Ms. Wang Xinna, Secretary of the Cultural Office, Mr. Mamoun Abu Al-Sebaa, Jordanian Director of TAG-CI, Dr. Yang Songfang, Chinese Director of TAG-CI, Ms. Randa Al-Yabroudi, Deputy Director of TAG-CI, Dr. Han Yuping, Chinese Director of Confucius Institute at Philadelphia University (CI-PU) attended the competition. 25 contestants from TAG-CI, CI-PU, The University of Jordan, and Yarmuk University participated in the competition. The teachers, students and their parents, etc. from the Chinese language teaching institutions in Jordan were present watching the competition.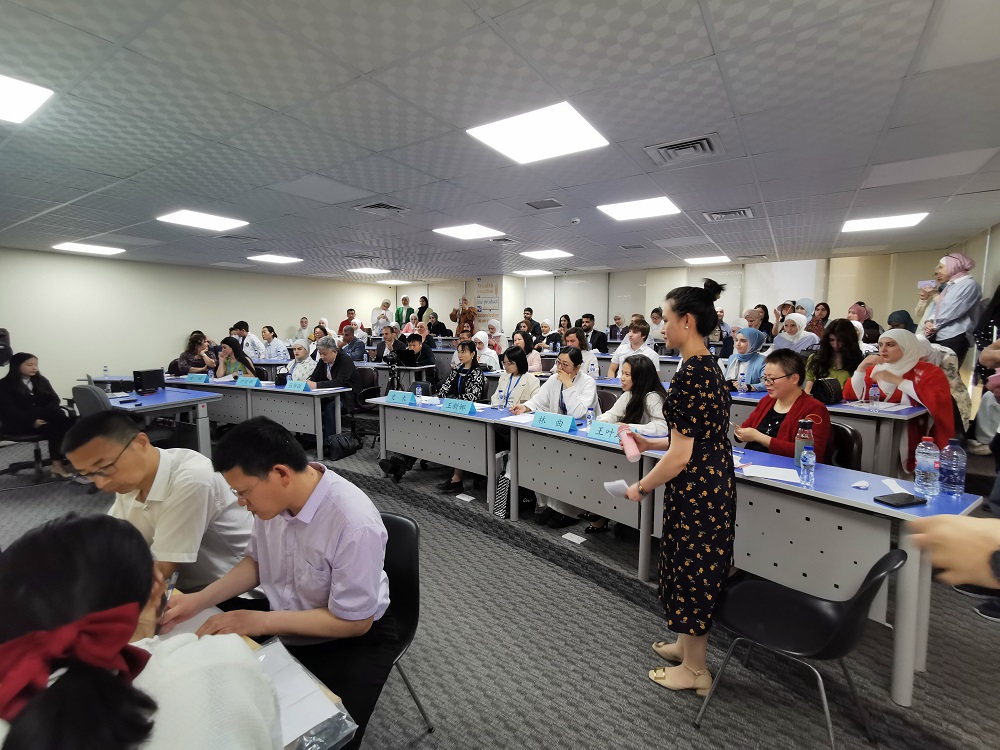 The theme of this competition is "One World, One Family". The semi-final in Jordan included two parts: a keynote speech and a Q & A on Chinese language, national conditions and culture. The judges were composed of seven members including the officials from Chinese embassy in Jordan, Chinese teachers and local Chinese language teachers.
In the section of keynote speech, the contestants shared their understanding of "One World, One Family" from different perspectives, such as their stories of learning Chinese, China-Jordan friendship, "The Belt and Road", human love, and a community of a shared future for mankind and so on. Some speeches were full of fun and wit, some were impassioned and expressive, some quoted ancient Chinese poems and famous sayings, which not only highlighted the charm of Chinese language, but also demonstrated the solid Chinese language competence and profound thought of the contestants.

The knowledge Q & A section involved Chinese language, education, philosophy, culture, economy, history, geography, music, art and the others. The contestants answered fluently, demonstrating a deep understanding of China and bringing about bursts of applause from the judges and audience.
After fierce competition, Sara Yousef from TAG-CI won the first place by her strong language competence and perfect performance. Another student Manal Al-Khammash won the fourth place. Both of them successfully advanced to the final competition. The top 10 contestants in the semi-final will participate in the final on June 5, 2023.
The event is sponsored by Center for Chinese Education and Cooperation of the Ministry of Education of China and Chinese embassy in Jordan, and hosted by TAG-CI and China Cultural Center in Amman.