TAG-Confucius Institute Holds Colorful Activities to Celebrate the Spring Festival of the Year of Tiger
TAG-Confucius Institute Holds Colorful Activities to Celebrate the Spring Festival of the Year of Tiger
The Spring Festival (Chinese New Year) is a traditional festival with a long history and grand celebration of the Chinese nation.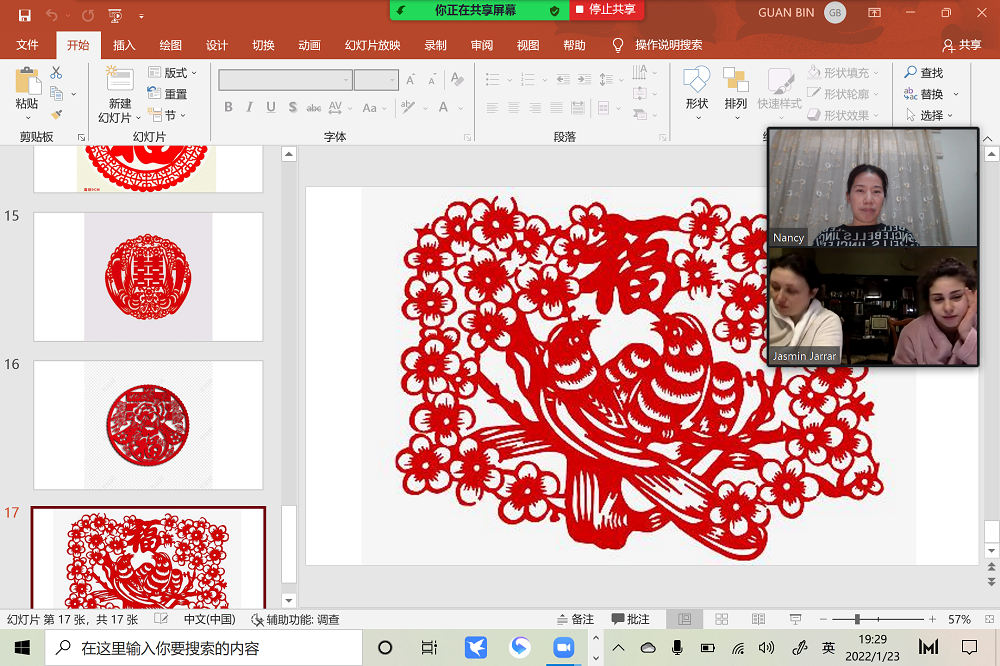 It carries rich cultural connotation. In order to celebrate the Spring Festival of the year of tiger and carry forward Chinese traditional culture, TAG-Confucius Institute (TAG-CI) recently held a series of colorful celebrations to provide the students with an opportunity to feel the unique charm of traditional Chinese festival culture in a happy and peaceful atmosphere.
The celebrations involved special cultural lecture on the Spring Festival, calligraphy and paper-cutting activities, interactive games, lecture on the comparison between Chinese culture and Arab culture, etc. 
Through exquisite pictures and videos, the teachers introduced to the students traditional Chinese calendar—the Yin and Yang calendar, the stories of the twelve zodiac animals, the origin and customs of the Spring Festival, including sweeping dust and worshiping ancestors, putting up Spring Festival couplets, having New Year's Eve dinner, staying up until midnight to welcome the New Year, setting off firecrackers, visiting relatives and friends, giving money in red envelopes, sending Spring Festival blessings, etc. In addition, under the guidance of the teachers, the students learned to cut the Chinese characters "春"(Spring in English)and "福"(blessing in English). 
They also experienced Chinese calligraphy to send festival blessings.
 In the interactive games, the teacher designed Q & A game and interesting guesting game related to the Spring Festival, and the students were full of interest and actively participated in them. Moreover, the lecture on the comparison between Chinese culture and Arab culture enabled the students to understand the traditional cultural philosophy and values of Chinese people, and find the empathy and similarities between Chinese 

Culture and Arab culture, which promoted exchanges and mutual learning between Chinese and Arab cultures.
TAG-CI displayed the charm of Chinese festival culture from multiple perspectives by means of videos, pictures, words, explanation, experience and interaction so that the students could perceive the happy Chinese New Year.
 The students also expressed their love for the Spring Festival and exchanged blessings, such as happy Spring Festival, good luck in the year of tiger, happiness and good health, good fortune and a prosperous new year and the like. 
They hope to go to China some day in the future to experience the Spring Festival in person.