TAG-Confucius Institute Cooperates with AL-Ra'ed Al-Arabi School to Offer Chinese Class
TAG-Confucius Institute Cooperates with AL-Ra'ed Al-Arabi School to Offer Chinese Class
On October 29, TAG-Confucius Institute (TAG-CI) offered the first Chinese language class at Al-Ra'ed Al-Arabi School, the new partner of TAG-CI. A total of 18 students joined the Chinese class. 
First, the teacher of TAG-CI taught the students some basic and interesting Chinese expressions, such as "你好"(Hello),"再见"(Good-bye), "我爱爸爸"(I love Dad),"我爱妈妈"(I love Mom), "我爱约旦"(I love Jordan),"我爱中国"(I love China), etc. The children were so interested in Chinese language that they read loudly after the teacher and participated in class interactions actively.
After that, considering children's interest, the teacher introduced Chinese folk dragon dance and lion dance, including the historical origin and cultural connotation, and then the teacher played the short videos of dragon and lion dances for the children.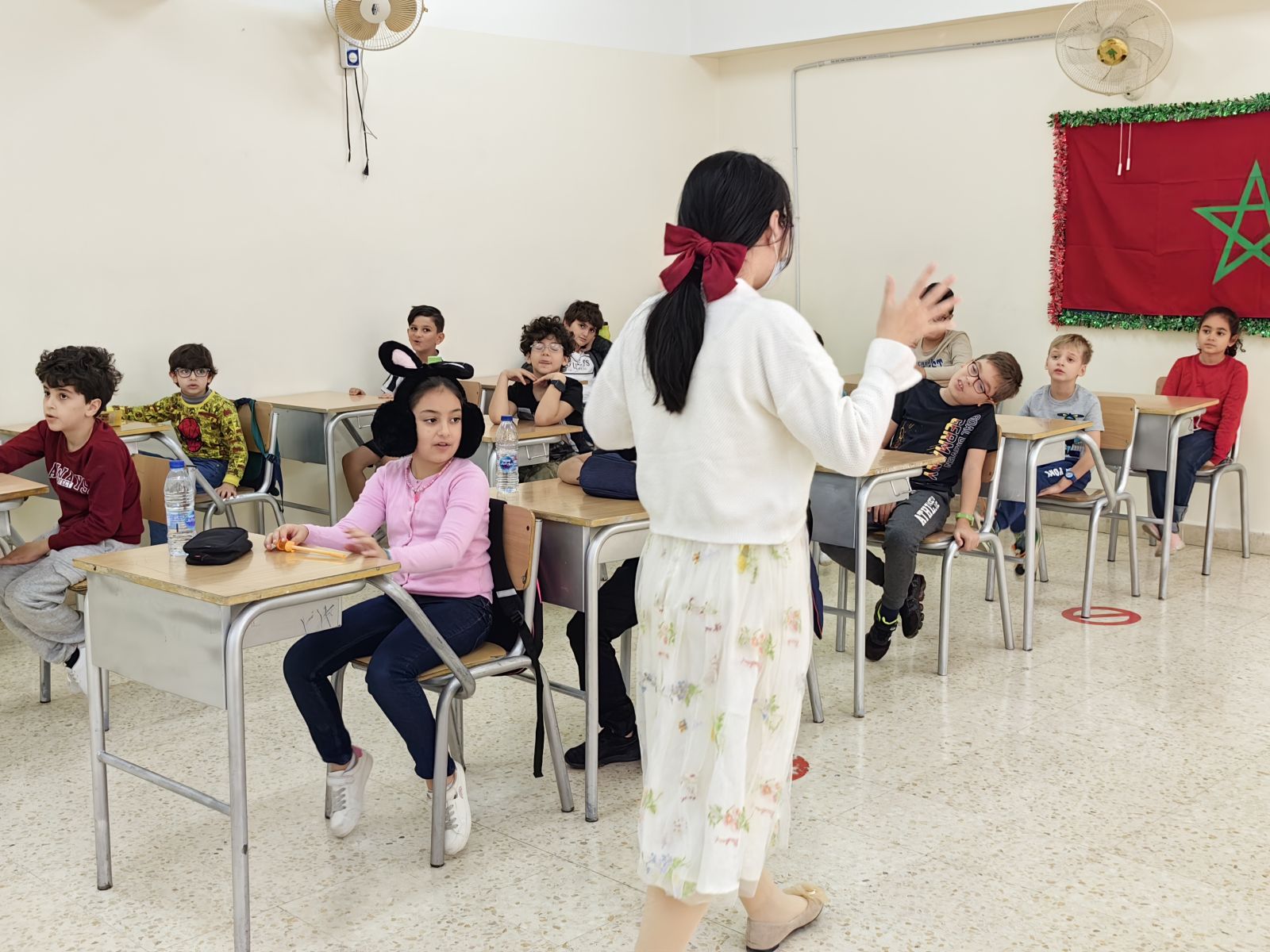 In Chinese people's mind, the dragon is an ancient totem. It's said that the dragon can make clouds and rain, eliminate disasters and bring happiness, symbolizing good luck. The lion is powerful in appearance and vigorous in movement. People believe that a lion is an auspicious animal. Dragon and lion dancing can bring good luck.
In ancient times, dragon and lion dances were one of the programs in major festivals of the year. With the emigration of Chinese to all parts of the world, the current culture of dragon and lion dances has been spread throughout Chinese mainland, Hong Kong, Macao and Taiwan, Southeast Asia, and even to various regions where Chinese are concentrated in Europe, America, Australia and New Zealand, becoming an important symbol of Chinese culture. 

At last, the teacher distributed the drawing paper and color pencils to the children, asking them to color the dragon and lion with their favorite colors. They focused on coloring and the lifelike dragons and lions appeared on the paper soon. They showed them to the teacher and had a sense of achievement. 
The Director of the school Ms. Maha thanked Mamoun Abu Al-Sebaa, Jordanian Director of TAG-CI, and Yang Songfang, Chinese Director of TAG-CI, for offering Chinese class at the school and giving the students an opportunity to learn Chinese language and know about Chinese culture. She expressed that there were many other parents who were eager to let their children learn Chinese, and the school authority would consider adding Chinese classes under the support of TAG-CI.