TAG-Confucius Institute Cooperates with AL Hussein Technical University in Chinese Language Teaching

TAG-Confucius Institute Cooperates with AL Hussein Technical University in Chinese Language Teaching

AMMAN - TAG-Confucius Institute (TAG-CI) and AL Hussein Technical University (HTU) have held a meeting to organize cooperation in Chinese language teaching. Along with Mr. Mamoun Abu Al-Sebaa, Jordanian Director of TAG-CI, Dr. Yang Songfang, Chinese Director of TAG-CI, Ms. Randa Al-Yabroudi, other participants included: Deputy Director of TAG-CI, Professor Ismael Hinti, President of HTU, Dr. William Naugle, Director of the Office of International Relations, Dr. Sameer Arabasi, Dean of School of Social and Basic Sciences, Dr. Hala Arar, Head of Department of Languages, and Ms. Leen Aljadid, Officer of International Relations.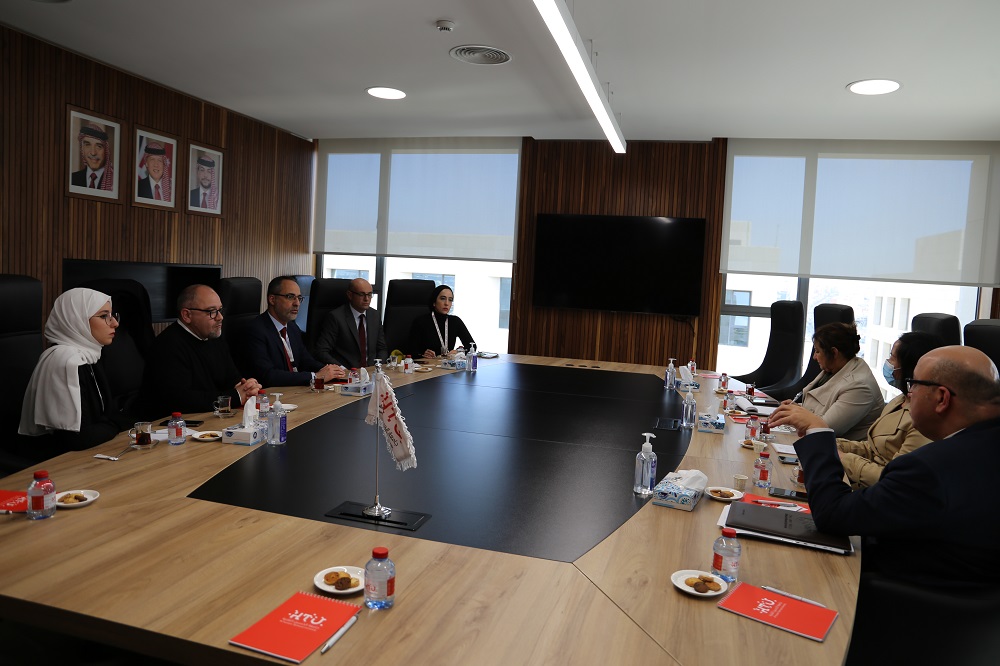 Mr. Mamoun stated that China had "The Silk Road" in ancient times and nowadays China has put forward "The Belt and the Road" initiative which runs through the ancient "Silk Road" and extends to African countries; towards  promoting exchanges and cooperation between China and the countries along "The Belt and the Road" in the fields of economy, trade, education, culture, etc. He said that the most important investment currently is the investment in human resources and TAG-CI has been committed to the cultivation of talents of those who are proficient in Chinese language and culture. The partners of TAG-CI Talal Abu-Ghazaleh Global (TAG.Global) and Shenyang Normal University (SNU) have renewed a 10-year cooperation agreement. The core work of TAG-CI is to provide Jordanian students with Chinese language and culture education. The teachers of TAG-CI are excellent professional teachers who have been carefully selected, examined and trained, thanks to textbooks that come from China. Dr. Yang Songfang compiled the 'Business Chinese Training Course' textbook  which meets the needs of Jordanian students in learning Chinese. Every year more than 20 students of TAG-CI are granted scholarships to study in Shenyang Normal University and other universities. International Chinese Education is one of the  majors of SNU, which has cultivated many excellent international students.
Dr. Yang Songfang first introduced key projects of TAG-CI such as Chinese Proficiency Test, International Chinese Language Teachers Scholarships, New China Studies Program, "Chinese Bridge" Chinese Proficiency Competition, Summer Camp to China, Educators Delegation to China, International Chinese Day, and the like. She affirmed that many categories of scholarship and programs provide students with opportunities to study Chinese language and culture in China, experience China's economic and social development and know about the real and comprehensive China. Then she introduced the Chinese education in Jordan and the cooperation between TAG-CI and local schools, Royal Court and Crown Prince Foundation in Chinese teaching and projects. She said that with the deepening of China-Jordan exchanges and cooperation in education, culture, economy and business, about 400 Chinese students come to Jordan every year to study Arabic and more and more Jordanian students are granted scholarships for further study in China. The students and their parents are increasingly aware of the promising prospect of learning Chinese language which will lead to many opportunities for them. After that, she briefed the internalization and Software College of SNU, hoping that the two universities can carry out exchanges and cooperation in relevant fields in the future.
Ms. Randa introduced the courses offered by TAG-CI and distributed the brochures of TAG-CI to the leaders and officers present at the meeting.
For his part, President Ismael Hinti briefed the meeting on the HTU; established by Crown Prince Foundation in 2017,as a private higher education institution and the only university located in King Hussein Business Park in Amman. He said that the mission of HTU is to bridge the gap between the numbers of graduates and their employment rate in technical fields. HTU features the combination of talent cultivation, the changing needs of the industry and social development, aiming at broadening the vision of students so that they can achieve a balance in technical development, language competence and leadership and become competitive talents not only in Jordan but also globally. He added that HTU attaches great importance to language education. 
People used to "look to the west", but now the rapid development of China's economy has attracted the attention of people all over the world. Many enterprises mainly checked students' competence of English, French, German, etc. in recruitment interviews before but now they consider students' Chinese language competence. He hoped that the students of HTU can learn Chinese and that HTU and SNU can have the opportunity to carry out exchanges of teachers and students and cooperation in a certain field.
Dr. William mainly introduced the learning approach, students, exams, practical programs and voluntary initiatives of HTU. He said that the foreign language courses offered by HTU include English, French, German and Italian as elective courses. He hoped to cooperate with TAG-CI to offer Chinese course. He invited TAG-CI to give lectures on Chinese language and culture and key projects of TAG-CI to the teachers and students at HTU in January 2023. From March 2023, TAG-CI will officially start to offer Chinese course to the students at HTU. The two sides will sign a cooperation agreement in Chinese language teaching in a week.