TAG-Confucius Institute Chinese Director Attends the Video Meeting of Chinese Ambassador to Jordan
TAG-Confucius Institute Chinese Director Attends the Video Meeting of Chinese Ambassador to Jordan
On January 28, Chinese ambassador to Jordan H.E. Chen Chuandong held a video meeting with representatives of Chinese compatriots in Jordan to extend good wishes to all Chinese people in Jordan during the Spring Festival. Chinese Director of TAG-Confucius Institute (TAG-CI) Yang Songfang, as a representative of Chinese language teachers in Jordan, attended the video meeting. The representatives of Chinese students, Chinese businessmen and practitioners of traditional Chinese medicine in Jordan attended the meeting as well.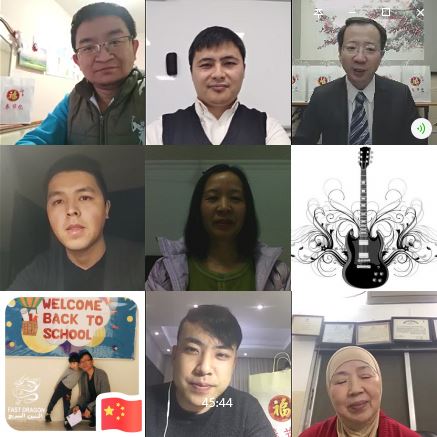 Chen Chuandong recalled the great achievements China has made in the past year in fighting against COVID-19 pandemic, economic development, alleviating poverty, and technological innovation. He hoped that Chinese people in Jordan would establish a sense of pandemic prevention and control, continue to strictly observe the local prevention regulations, and do a good job in self-protection.
The representatives briefed the ambassador on their work, study, life and pandemic prevention, etc.
Yang Songfang extended gratitude to the motherland and Chinese embassy for the care and help all the time. She said that receiving the "Spring Festival love bag" from the embassy and the New Year letter from the ambassador on the occasion of the Spring Festival made the overseas Chinese including Chinese teachers fully feel the deep affection and blessing of the motherland. Then she made a general introduction to the Chinese language teaching in Jordan and highlighted TAG-CI's Chinese teaching, key projects and events, and the work plan in the future. She said that TAG-CI would like to work with Chinese embassy to contribute to the promotion of educational, cultural, economic and trade exchange and cooperation between China and Jordan. 
The ambassador highly appreciated and affirmed the work of TAG-CI. He said that Chinese embassy would provide necessary support to TAG-CI and he hoped to visit TAG-CI in person after the pandemic.
The meeting lasted for about one hour in the pleasant atmosphere.