TAG-Confucius Institute Attend the 5th Chinese Teaching Seminar in Jordan

TAG-Confucius Institute Attend the 5th Chinese Teaching Seminar in Jordan
On December 25, the 5th Chinese teaching seminar in Jordan was held online. The teachers and volunteers from seven teaching institutions including Amman TAG-Confucius Institute (TAG-CI) and the University of Jordan attended the seminar and made speeches, and conducted in-depth exchanges on Chinese teaching in Jordan under the current COVID-19 pandemic situation.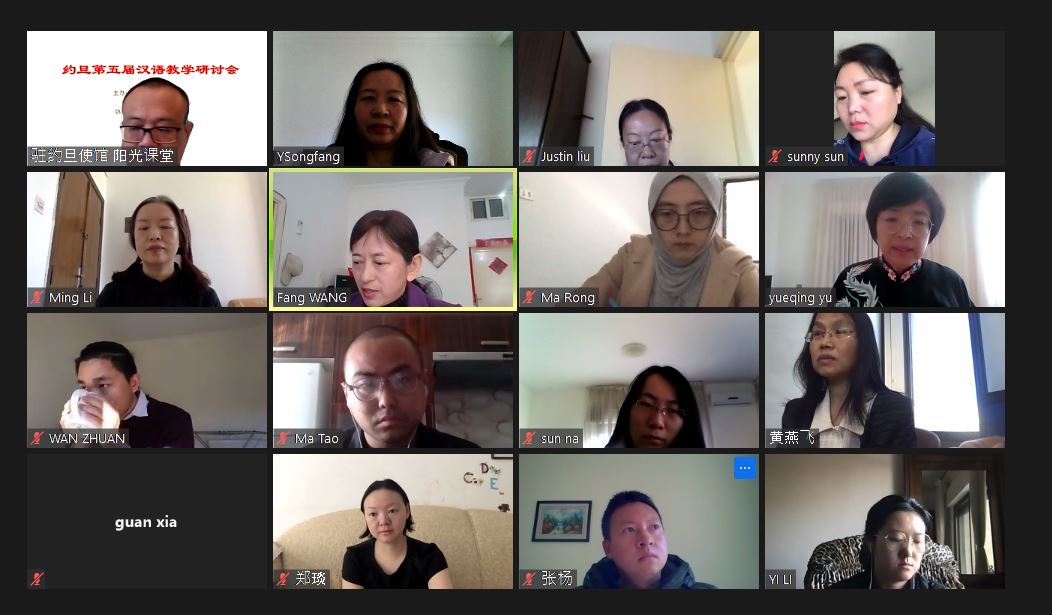 Dr. Yang Songfang, Chinese Director of TAG-CI, introduced Chinese teaching at TAG-CI, the challenges and opportunities of online Chinese teaching, and her thinking on future Chinese teaching. She said that Chinese teaching of TAG-CI has not slowed down due to the impact of COVID-19. 
In response to the pandemic, TAG-CI switched to online teaching, and HSK tests and other events were also held online. 
Students' enthusiasm for Chinese learning remains unchanged. At the same time, she pointed out the challenges faced by online Chinese teaching, such as the need for the support of high-quality network environment, computer hardware equipment and teaching platform; higher requirements for teachers' network operation ability, information and communication technology ability; insufficient digital resources, etc. She also emphasized that challenges bred opportunities, promoting the optimization of teachers, teaching materials and teaching methods, as well as the reform of educational philosophy, mode, management and evaluation.
 She hoped that international Chinese teachers should face the new technology and new situation, cultivate their own awareness and competence of information-based teaching, strengthen computer operation ability, adopt new technical means, improve teaching design, change teaching methods, increase the interest and interaction of teaching. In short, the teachers should empower themselves from many aspects and prepare for the international Chinese teaching of "dual track" both online and offline.
The other teachers shared their own teaching experience and insights. They exchanged ideas and learned from each other, and conduced in-depth discussions on issues of common concern.

Yang Ronghao, cultural counselor of Chinese embassy in Jordan, said in his summary that in the face of the challenges of the pandemic this year, based on good self-protection, the Chinese teachers in Jordan have innovated teaching mode, actively carried out online teaching to meet the needs of local people for learning Chinese in the special period, which made contributions to promoting the development of Chinese teaching in Jordan and the educational and cultural exchanges between China and Jordan. In addition, he also responded to the teachers' concerns about life and work.
This seminar provided a platform for the Chinese teachers in Jordan to communicate with each other, aiming to promote the academic and practical development of Chinese education in Jordan.