H.E. Dr. Talal Abu Ghazaleh is the Guest of Honor in 70th Anniversary of the Founding of Shenyang Normal University (SNU)

H.E. Dr. Talal Abu Ghazaleh is the Guest of Honor in 70th Anniversary of the Founding of Shenyang Normal University (SNU)
       
H.E.  Dr. Talal Abu-Ghazaleh was selected as the guest of honor to address the faculty members and the students the celebration of the 70th   Anniversary of the Founding of Shenyang Normal University (SYNU). H.E. sent a recorded video message to congratulate SYNU on their anniversary and he addressed the achievements done during this period of time.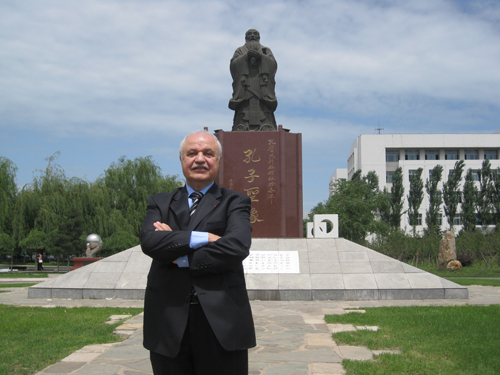 H.E Dr. Talal Abu-Ghazaleh mentioned that he is proud of the relationship and partnership with SYNU that started in 2008 when establishing TAG-Confucius Institute. He also thanked Dr. Jia Yuming, the President and the Party Secretary of Shenyang Normal University, for all the support that the university provided during the last 13 years. 
Dr. Abu-Ghazaleh said "I was honored to receive the award from H.E. Shi Jinping in 2016 for the Outstanding Efforts to support Arab-China Friendship, it was really one of the most remarkable moments of my life."
H.E also added "I'm also proud that TAG-Confucius Institute was awarded as the best Confucius Institute among the Confucius Institutes in the world and this wouldn't have happened without the support of SYNU"
   
Furthermore, Dr. Abu-Ghazaleh stressed the need of changing the Arab universities to become smart and digitally-driven universities, as well as developing the technological infrastructure of universities in implementation of the new global shift towards distance education. That is in addition to the use of information technology and artificial intelligence technologies in projects with economic, developmental and social benefits and the digitalization of educational facilities. He also underlined the importance of conducting scientific research for the purpose of innovation and creativity.
Due to the importance of digital transformation, Dr. Abu-Ghazaleh referred to the establishment of Talal Abu-Ghazaleh for Technology (TAGTech) to become one of the specialized companies producing information and communication technology, manufacturing so far 15 technological devices including laptops, tablets and smartphones with high specifications at competitive prices in the Arab region.