China's Education arrangements during COVID-19 pandemic period

China's Education arrangements during COVID-19 pandemic period
 
According to the World Health Organization, school closures due to the novel coronavirus (COVID-19) have affected over 1.5 billion children and young people around the world.  This includes 270 million students in mainland China who were unable to start their spring semester (February – August 2020) on campus as planned.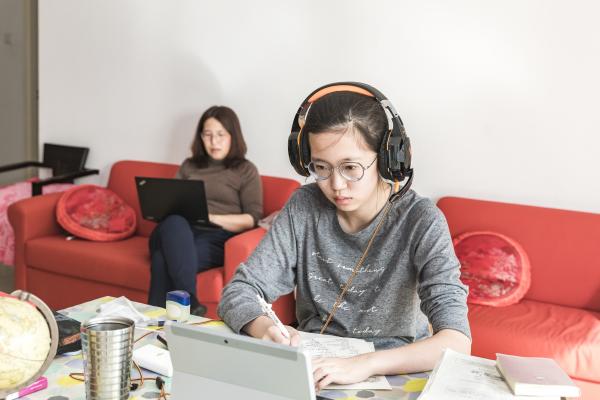 To minimize the impact on education continuity, the Chinese Government introduced various measures applicable in the COVID-19 context.  These are outlined below.
 
Limiting face to face teaching
 
In late January 2020, mainland China postponed all educational activities and the Chinese Ministry of Education (MoE) urged schools and higher education institutions to use online delivery as an alternative to face-to-face teaching. Of significance, this marks the first time online delivery has been permitted, at great scale, as part of formal education delivery in China.
 
In response to the call, the majority of provinces, municipalities and autonomous regions in mainland China pushed back the spring semester start date and transitioned to teaching classes online.
 
From April 2020, on-campus teaching began to gradually re-open for school students, starting with graduating classes in high schools (Years 9 and 12, as well as graduating classes of secondary vocational schools. By 11 May, all mainland provinces/municipalities and autonomous regions had recommenced on-campus teaching for senior high schools and 26 permitted students back on campus in higher education institutions –  meaning around 107.79 million students (~39% of China's student population from kindergarten, primary and secondary school and higher education institutions) had returned to campus. 
 
Students physically attending class on-campus are required to have their temperature taken throughout the day, wear protective masks except when outdoors or in low-risk environments and eat separately from each other.  In some cities such as Guangzhou and Shenyang, all Years 9 and 12 students, staff and faculty were asked to take the 

COVID-19 nucleic acid test before returning to campus.  It is understood nucleic acid testing has also been adopted by some individual institutions, especially higher education institutions, as a preventive measure.
 
  
Due to higher health risks, several cities had to postpone their school re-commencement plan until further notice. Education authorities in some cities that have been harder hit with COVID-19, such as Jilin and Shulan in Jilin Province, have recalled students that had already started on-campus learning to home-based online learning until further notice. Some universities have announced that face-to-face teaching would not resume for the entire semester. Xi'an Jiaotong-Liverpool University – a Sino Foreign joint venture between Xi'an Jiaotong University and University of Liverpool - announced that all of its undergraduate and postgraduate students would continue to study online and not return to campus for the entire second semester.
On 31 March, it was announced that China's National College Entrance Exam (Gaokao), which usually takes place in June every year, would be postponed by one month to July 2020. This is the first time that Gaokao has been postponed nationwide since it was resumed in 1977. Furthermore, all TOEFL, GRE and IELTS tests in Mainland China were cancelled for February until end of May 2020 due to the pandemic, which has disrupted many students' overseas study plans.
 
Assisting with the transition to online and distance delivery modes
 
To support education institutions' transition to online learning, the MoE issued on 4 February 2020 the "Guidance on the organisation and management of online teaching and learning in regular higher education institutions". The document requested higher education institutions to use online platforms to facilitate remote study and recommended 22 online platforms in China capable of providing 24,000 higher education courses for free (see appendix A for list of platforms).

These materials include MOOCs (massive open online courses), SPOCs (Small Private Online Courses) and virtual simulation experiments covering 12 disciplines at undergraduate level and 18 disciplines at higher vocational level.  The majority of platforms listed by the MoE are established by top Chinese universities or enterprises.  More than half of China's higher education institutions commenced the spring semester online using existing online content and live-streamed classes.
 
At school level, the MoE, together with the Ministry of Industry and Information Technology (MIIT), launched an online portal on 17 February 2020 for primary and secondary school students in China.  The platform provides digital materials for schools to conduct teaching online and is capable of supporting 50 million students using it simultaneously. As of 11 May 2020, the platform had been visited over 2 billion times by people from all 31 mainland provinces. However, students and institutions have raised issues (such as technical limitations), especially in rural areas which may lack reliable internet connectivity and where many students/families are unable to afford the necessary equipment to access online content.
 
The MIIT issued a notice on 3 March announcing plans to strengthen broadband coverage during the pandemic outbreak period to support online studies.  Furthermore, on 16 March, the MoE released a guideline pledging to better apply information technology in primary and secondary schools to ensure universal access to quality education.  Some provinces have also subsidized students to gain access to online studies. Liaoning Province, for example, has paid a total of 7 million RMB (1.4 million AUD) to around 20,000 students from higher education institutions in the province to buy equipment or pay for internet access. 
 
On 13 March, UNESCO published a list of recommended applications, platforms and resources to help people around the world cope with school closures. Three platforms and apps developed by Chinese institutions and enterprises were included – iCourse, Dingtalk and Mosoteach.  On 10 April, the MoE announced that China would consolidate English language materials provided by universities in China and launch an English language online education platform, to support students around the world.

Supporting students abroad
 
One of the main concerns for Chinese students studying overseas during the COVID-19 pandemic is that their foreign qualification, obtained partially online during this period may not be verified by the Chinese Service Center for Scholarly Exchange (CSCSE) – an affiliated agency to the MoE that conducts official verification of foreign (overseas) academic qualifications. This concern is understandably shared by providers around the globe who wish to ensure that their offerings to Chinese students continue to meet the needs and requirements of Chinese students and regulators.
 
On 3 April 2020, the CSCSE announced that foreign qualifications obtained partially online due to an inability to attend campus during the COVID-19 pandemic period should not influence verification of foreign qualifications.[23] This is the first time that the CSCSE has given an exception to qualifications obtained through online studies.
 
There are around 1.6 million Chinese students currently enrolled in educational courses overseas, and as of early April 2020, 1.4 million remained outside of China. 
 
The MoE has been working with other Chinese government ministries and agencies to support Chinese students overseas by maintaining communication through the 280 Chinese Embassies and Consulates around the world. The Chinese Government has also been distributing "COVID-19 health packages" to Chinese students abroad. As of 2 April, 500,000 "health packages" had been prepared, containing equipment such as masks, disinfectant wipes, Chinese medicine and an information pamphlet. 
 
On 26 March, the Civil Aviation Administration of China announced a substantial reduction of international passenger flights (both Chinese and foreign airlines were allowed to maintain one route from China to any country with no more than one flight per week), and Chinese citizens were left with limited options to fly back to China. Media reports suggest that between 4 March and 12 April 2020, the Chinese Government had sent 16 charter flights overseas to pick up its citizens from countries that were hard hit by COVID-19. The flights brought back to China a reported 1,449 Chinese students studying abroad. More flights were also reported to have been
 Organized in May to bring back Chinese citizens from countries such as the USA and UK, with seats mainly reserved for younger students and students who have graduated.  
 
The CSCSE cancelled the 25th China International Education Exhibition Tour (CIEET) – one of the largest annual international student recruitment events in China, which was supposed to take place from 21-29 March 2020. However, the CSCSE has confirmed that CIEET 2021 will be held 20-28 March 2021 as planned.
 
Supporting employment
 
Around 8.7 million students are expected to graduate from Chinese higher education institutions in 2020, up by 400,000 from 2019. With the pandemic forcing colleges and universities to delay entrance in the first quarter, students are facing uncertainty as to whether they can graduate on time and secure employment in the current economic circumstances.
 
On 28 February, a press conference was held by the MoE and Ministry of Human Resources and Social Security. It was announced that the government would initiate four action plans to help graduates overcome their difficulties:  
1.    Maximise employment opportunities through plans such as increasing employment quotas in basic education, health and community service. The MoE also encouraged graduates to join the army.
2.    Expand pathways for further education including by increasing admissions for Masters Degrees by around 189,000 places in disciplines such as clinical medicine, public health, integrated circuits and artificial intelligence. The admissions quota for college students to enter university was to also increase by about 322,000 places in disciplines such as preventative medicine, emergency management, aged care service management and e-commerce. 
3.     Explore more channels for employment. The government is undertaking to arrange various online recruitment events for students.  It has negotiated with 5 major employment portals (51 jobs, Zhaopin, Boss Zhipin and Liepin) to offer free services to higher education graduates via a Campus Recruitment Service Campaign (www.ncss.cn).  More than 2 million positions were released through 
The service campaign after one week of the portal being launched. The MoE also launched a 24 hour employment service hotline for graduates on 28 February 2020.
4.    Asking teachers and professors to provide tailored guidance and support to students on employment.
 For students that are set to graduate this year, many universities are encouraging students to conduct their thesis defense online so that they can graduate in mid-2020 as planned. Wuhan University has officially announced that all of its 2020 undergraduate graduating class will conduct their thesis defense online.
On 15 April 2020, the MoE announced a "One-on-one Employment and Entrepreneurship Support Action Plan" for the period of April to September 2020. The action plan will allow top higher education institutions in China (outside of Hubei) to share recruitment resources such as employment/internship opportunities and support services with higher education institutions in Hubei. The action plan will operate as a partnership model with the first phase involving 48 partnerships. (See full list in appendix B)
 
Besides supporting graduates to find employment, it is understood the Chinese Government is also looking to expand online vocational training to upskill the workforce, especially for those that are unemployed. On 6 February, the Chinese Ministry of Human Resources and Social Security, together with the National Development and Reform Commission, MIIT and All-China Federation of Trade Unions announced a large-scale online vocational training program for the COVID-19 pandemic period, which aims to provide free skills training to over 5 million people between March and June 2020.   A total of 54 platforms were made free to the public. By late April, one of the main platforms offering the training – "China Vocational Training online" – had been registered by over 1 million people. 
https://internationaleducation.gov.au/international-network/china/PolicyUpdates-China/Pages/China's-education-arrangements-during-COVID-19-pandemic-period.aspx