The Arab Chinese Cooperation & Development Association Distributes 'Talal Ibn Adibeh' Story in Lebanon in its Chinese Edition
The Arab Chinese Cooperation & Development Association Distributes 'Talal Ibn Adibeh' Story in Lebanon in its Chinese Edition

BEIRUT – The Arab Chinese Cooperation & Development Association (ACCDA) has distributed the Chinese version of the story of 'Talal Ibn Adibeh', a children's story written by author Ms. Areej Younis.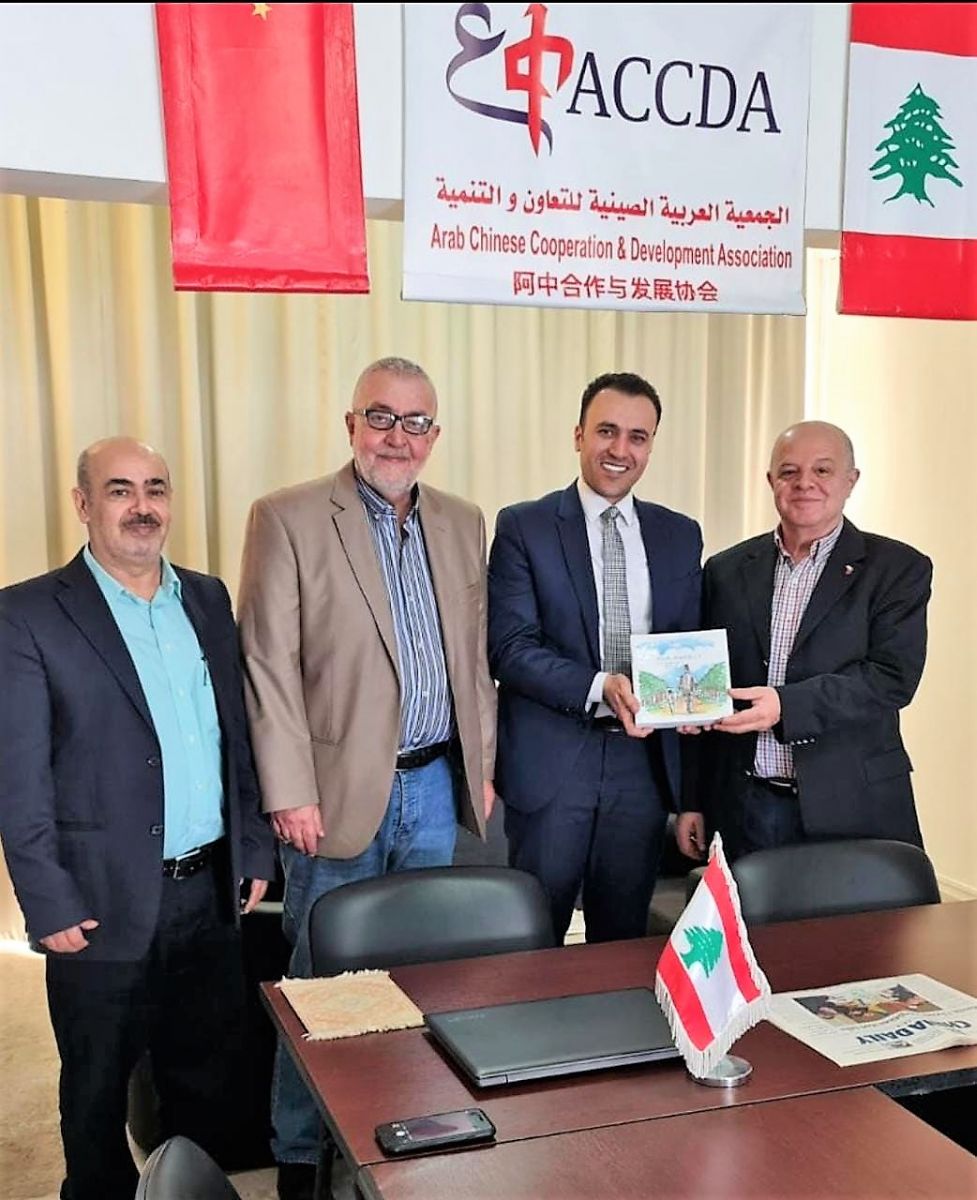 'Talal Ibn Adibeh' narrates the life story of HE Dr. Talal Abu-Ghazaleh, founder and chairman of Talal Abu-Ghazaleh Global (TAG.Global), who successfully managed to challenge and overcome the forced displacement from home land in Jaffa , palestine, the difficulties, and the obstacles he experienced; determining to succeed and excel, and to  establish his global Organization. 
The Arabic original of 'Talal Ibn Adibeh' story has been translated to several languages including Chinese, English, Turkish and French.
The distribution of the story was launched at ACCDA's premises in Badaro – Beirut in the presence of representative of Dr. Abu-Ghazaleh for Culture and Media in Lebanon, Mr. Burhan Al Ashkar, in addition to ACCDA President, Mr. Kasim Tofailli, ACCDA Vice-president, Dr. Pierre Al Khoury, and Associations' Officer, Mr. Zuhair Kassir.
Mr. Tofailli referred to the deep relations between Dr. Abu-Ghazaleh and China at all levels, over many years, pointing out that China is a model to be followed in the field of development.
For his part, Mr. Al Ashkar stated that the 'Talal Ibn Adibeh' story narrates Dr. Abu-Ghazaleh's life journey, since his  arrival in Lebanon in 1948 as a Palestinian refugee until he became one of the most prominent leaders in business and technology around the globe, in addition to establishing TAG.Global; the largest global organization for professional services, education and tech-products, operating in more than 100 offices around the world. 
He further added that the story gives a lesson in the ability to succeed despite all the difficulties and suffering Dr. Abu-Ghazaleh had faced as a refugee, pointing out that "Talal Ibn Adibeh" is a story about a child who become a legend and successfully created a remarkable future for himself, his family, his country and his nation, not to mention that he became an Arab and a well-known global personality in business, social and humanitarian spheres.
Meanwhile, Al Ashkar referred to the decision made by Lebanon's former Minister of Education and Higher Education, Dr. Akram Shahib to adopt the story as one of the cultural resources at schools. 
Dr. Al Khoury expressed his thanks to TAG.Global for its role in supporting the Arab interests.
It is worth mentioning that the 'Talal Ibn Adibeh' story is a joint production between Jordanian author Ms. Areej Younis and Talal Abu-Ghazaleh Global. The story sheds light on some important stages in the life of Dr. Abu-Ghazaleh before and after the displacement from his native town of Jaffa in Palestine, includes colored pictures and drawings to reflect its content.
It is worth noting that the story was translated by Talal Abu-Ghazaleh Confucius Institute, the first Chinese language institute in the world, established in partnership between the Chinese government and the private sector, represented by Talal Abu-Ghazaleh Global.